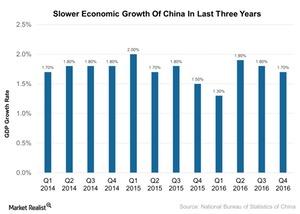 China's Impact on US Growth: The Effect on Your Investments
By Mary Sadler

Feb. 24 2017, Published 1:18 p.m. ET
China's impact on US growth
China has witnessed phenomenal growth in its GDP, with an average of about 9.0% in the last decade. China's recent slowdown is expected to impact global growth, including the United States.
According to Steve Kroll, managing director of Monness, Crespi, Hardt & Co., the Chinese economic slowdown and the trade war between the United States and China are likely to impact US growth.
Article continues below advertisement
China's economic growth
In the last decade, China has had a GDP growth rate of about 9.0%. China (MCHI) (EWH) is growing, but lately, it's increasing at a slower pace than the past decade.
As you can see in the above graph, the first quarter of 2016 was the slowest in the last few years. In the first quarter of 2016, the growth rate was about 1.3%, from 1.5% in the fourth quarter of 2015. Currently, China is the second-largest economy after the United States at about ~$11 trillion as of 2015.
According to the recent International Monetary Fund (IMF) outlook, the GDP growth estimate for China is 6.7% compared to 6.9% in 2015. The growth forecasts for 2017 and 2018 are below the previous estimates of 6.5% and 6.0%, respectively. Slower Chinese growth has the immediate impact of global commodities demand since China is one of the largest importers and exporters in world trade and thus has a significant impact on global growth.
China is also the United States' largest trading partner. US imports from China are continually rising, resulting in an increasing trade deficit. But lately, as of 2016, exports to China have also increased about 10.0% since 2008. Exports to China will impact the US economy in numerous ways. Exports typically influence economic growth, employment, and the trade deficit.
A lot of US technology firms in the semiconductor industry are largely dependent on China for their manufacturing, sales, and licensing. Some of these companies are Skyworks Solutions (SWKS), Qualcomm (QCOM), Broadcom (AVGO), and Micron Technology (MU).
In the next and final part of this series, we'll look at sector performances in the United States for 2016 and expectations for 2017.