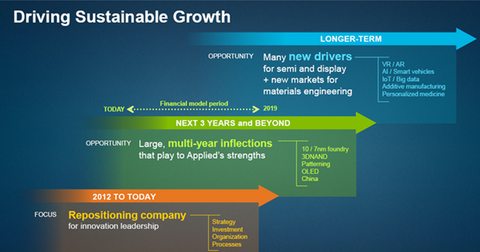 Applied Materials Is at the Peak of Its Revenue Cycle
By Puja Tayal

Updated
Applied Materials preview
Applied Materials (AMAT) is the world's largest provider of manufacturing equipment and services to the semiconductor, display, and related industries. Intel (INTC), TSMC (TSM), Samsung (SSNLF), and Micron (MU) accounted for 51% of AMAT's revenue in fiscal 2016.
AMAT supplies equipment for all steps involved in the chip manufacturing process. Its strategy is "inflection focused innovation leadership" wherein it focuses its research on technologies that are at their inflection points like 3D NAND and display. However, it's facing increasing competition from its Dutch rival ASML Holding, which has launched EUV (extreme ultraviolet) lithography equipment that will be used by foundries in their 7-nm (nanometer) process node.
Article continues below advertisement
Nature of Applied Materials' business
AMAT's business is cyclical in nature. Its revenue grows when capital spending by chip manufacturers rises. When manufacturers increase capital spending, production capacity also increases, which leads to oversupply if demand falls. This, in turn, reduces capital spending by manufacturers and reduces AMAT's revenue.
The environment has now become more challenging for AMAT as the semiconductor industry consolidates and chip manufacturers restructure their manufacturing operations. This has consolidated AMAT's client base to a few very big players.
Winds blow in favor of Applied Materials
However, AMAT is currently at the peak of the cycle. The semiconductor industry is expected to spend around $35 billion in 2017 on capital equipment, of which the majority would be spent by AMAT's key customers Intel, TSMC, and Micron. Analysts expect high spending in the logic, foundry, and memory markets.
In 2015, Samsung lost Apple's (AAPL) order for iPhone processors to TSMC. The former is investing more to win back Apple's order. Moreover, AMAT is seeing strong demand in the display segment from TVs and smartphone makers.
Future growth opportunities for AMAT
AMAT believes that five key factors will drive its growth in the next few years: advanced foundry in logic, 3D NAND, patterning, advanced display, and China (FXI).
However, AMAT's chief financial officer, Bob Halliday, believes that the company's growth is slowly turning from cyclical to seasonal as the trends in big data, IoT (internet of things), cloud infrastructure, artificial intelligence, virtual reality, and self-driving cars is diversifying the equipment market and making it less volatile. The company stated that it reported compound annual growth of 26.7% between 2011 and 2016. However, it expects this growth to slow to 15.6% for the next five years.
In this series, we'll look at the inflection points for AMAT and how they could impact its fiscal 2017 earnings.