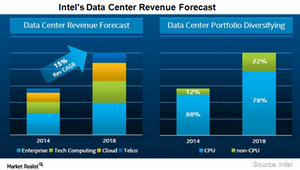 Will Intel Maintain Its Data Center Dominance in 2017?
By Puja Tayal

Updated
Data center market outlook
Earlier in the series, we saw that growth has been flat or slow in the two biggest semiconductor end markets: PCs and smartphones. However, one area that's growing quickly is the data center space, which is dominated by Intel (INTC) with more than a 99% market share.
Deutsche Bank analyst Ross Seymore expects the data center space to be the fastest growing semiconductor segment in 2017, reporting a rise of 10%. IBS (International Business Strategies) predicts that the data center space will grow between 12% and 14% in 2017.
Article continues below advertisement
Companies strive to challenge Intel's data center dominance
As the data center space is expected to be the fastest growing semiconductor segment, competition is increasing. Companies such as Qualcomm (QCOM), IBM (IBM), and Advanced Micro Devices (AMD) are challenging Intel's dominance with new products. In 2017, AMD will launch its Zen processors, Qualcomm will launch its ARM-based server processors, and IBM will launch its Power9 platform, equipped with Xilinx's (XLNX) FPGAs (field-programmable gate array).
The data center market moves toward deep learning
The data center market is moving toward deep learning and artificial intelligence, which requires the real-time processing of data for voice or image recognition. NVIDIA (NVDA) has a lead in this space, as its GPUs (graphics processing unit) are used as accelerators by many companies to perform deep learning tasks.
Intel acquired FPGA maker Altera to enter the deep learning market. FPGAs can be reprogrammed and used for specific computing tasks. Other companies aren't far behind, having collaborated with FPGA maker Xilinx to offer deep learning capabilities.
Article continues below advertisement
Will Intel dominate the deep learning segment as well?
AMD, ARM Holdings, Huawei Technology, IBM, Mellanox Technologies, and Qualcomm have collaborated with Xilinx on a single interconnect format that will allow different CPUs (central processing unit) such as ARM, Power, and x86-based processors to share data with FPGA accelerators. This capability should create an environment for heterogeneous computing and improve the value provided by accelerators. If these companies succeed in building a homogenous interface, they could pose serious competition for Intel.
In talking about competition for Intel, one name that can't be missed is AMD. AMD is the only company that, for years, has been competing with Intel in the PC and server space, despite the fact that Intel holds the lion's share of the market. Next, we'll see how the competition between the two could pick up in 2017.