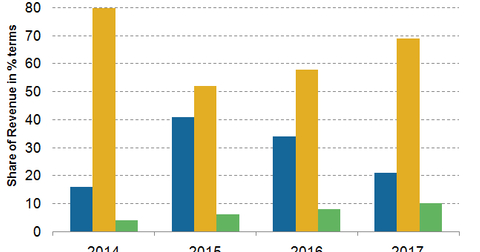 Will AppDynamics Acquisition Help Cisco's Position in SaaS Space?
By Anne Shields

Updated
AppDynamics will provide a predictable revenue avenue to Cisco
Earlier in the series, we discussed Cisco's (CSCO) recent $3.7 billion acquisition of AppDynamics. AppDynamics generates revenue by selling its APM (application performance management) software as a perpetual software license as well as a subscription or SaaS (software-as-a-service).
AppDynamics' revenue rose from $23.6 million in fiscal 2014 to $150.6 million in fiscal 2016. Its fiscal year ends in January. The below chart shows the revenue contribution of each product line to AppDynamics' overall revenues in percentage terms. Subscription generated 82% of the revenue in 2016.

Article continues below advertisement
AppDynamics has managed to grow 50% on an annual basis. Moreover, 75% of AppDynamics customers make purchases based on a subscription-based model. AppDynamics is expected to enhance and widen Cisco's software portfolio. Cisco is targeting more subscription revenue, as it leads to more predictable recurring revenue.
SaaS is the most highly deployed global cloud service
According to Cisco Systems' Global Cloud Index, SaaS (software-as-a-service) workloads are expected to have the largest share. They are expected to grow at a CAGR (compounded annual growth rate) of 30% and to have 74% of cloud workloads by 2020.
According to Barron's blog, Morgan Stanley analyst Keith Weiss stated: "Within applications, the focus of enterprises and CIOs today is the front office, and in particular front office SaaS-based applications."
Microsoft (MSFT) and Oracle's acquisition of LinkedIn (LNKD) and NetSuite, respectively, demonstrate these companies' ambitions to scale up in the CRM space. CRM is the largest component of SaaS and is the fastest-growing sector in the cloud computing space. SaaS was pioneered by Salesforce (CRM).
In 2016, when Oracle (ORCL) announced the acquisition of Textura, Stifel analyst Brad Reback shared his opinion that the SaaS (software-as-a-service) space will see more M&As. SaaS players such as Paycom, Paylocity, and Splunk were seen as future acquisition targets.
Thus, through the acquisition of AppDynamics, Cisco will benefit from increased cloud adoption, especially from SaaS.