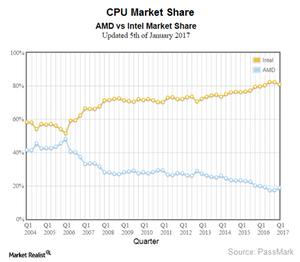 Will AMD Gain CPU Market Share with Its New Zen Processor?
By Puja Tayal

Jan. 12 2017, Updated 7:36 a.m. ET
Intel versus AMD
In the previous part of the series, we saw that many companies are looking to compete with Intel (INTC) in the data center market, where it has more than a 99% market share. Even its old rival, Advanced Micro Devices (AMD), is looking to make a comeback in the high-end PC and server market with its upcoming Zen processor.
Let's see how 2017 could shake out for AMD and if it can succeed in gaining some market share from Intel.
Article continues below advertisement
2016 was AMD's year
2016 was AMD's year, as it made a comeback in the GPU (graphics processing unit) market with its Polaris GPUs. This comeback helped it to reverse its losses and revenue falls. In 3Q16, the company reported double-digit revenue growth for the first time in more than two years. It also reported its first non-GAAP (generally accepted accounting principles) net profit in six quarters.
However, AMD continued to report losses in the PC and server segment. The high-end CPU (central processing unit) space is dominated by Intel, leaving the low-end market for AMD. As PC sales have slowed, Intel has started to eye the low-end market, pushing AMD into losses.
Will Intel's technology advantage last in 2017?
Intel has a technology advantage over AMD, as the former manufactures chips on advanced process nodes that help it to deliver better performance, power, and cost efficiency. Now, AMD has developed its Zen processors on Samsung's (SSNLF) 14nm (nanometer) nodes, and it claims that these processors can compete with Intel's existing Broadwell processors.
In 4Q16, AMD made its seventh-generation mobile APU (application processing unit), Bristol Ridge, available. It secured orders from the world's top two PC makers, Hewlett-Packard (HPQ) and Lenovo, for their business computers.
Intel has cut its capital expenditure in the PC space to focus on the data center segment. This move has changed the company's technology roadmap, giving AMD a chance to catch up. Even though the PC market is slowing, AMD could benefit by gaining market share from Intel.
Market share benefit
In 3Q16, AMD's revenue from graphics and computing stood at $472 million, while Intel's revenue from PC and mobile computing stood at $8.9 billion. If AMD were to succeed in gaining even 5% market share, its computing revenue would more than double. 2017 could see AMD's computing group return to profit if its Zen processor proves to be a success.
Aside from PCs, AMD is also looking to make its mark in the graphics space. We'll look into this in the next part of the series.