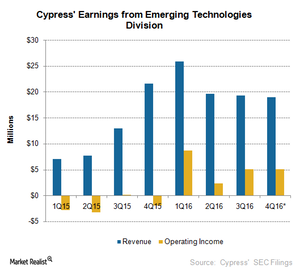 Where Is Cypress's Emerging Technologies Division Heading?
By Puja Tayal

Jan. 25 2017, Updated 10:36 a.m. ET
Cypress's Emerging Technologies division
Cypress Semiconductor's (CY) Data Communications and Programmable Solutions divisions, which together account for 51% of the company's revenue, have been posting losses. Memory continues to be the major contributor towards Cypress's revenue, which is true even for the ETD (Emerging Technologies Division).
The ETD includes Cypress's foundry business, development-stage technologies such as non-volatile DIMMs (dual in-line memory modules), manufacturer AgigA Tech, and back-end technology provider Deca Technologies.
Article continues below advertisement
ETD's earnings estimate
Cypress's ETD revenue fell in fiscal 3Q16, as it sold its Deca Technologies segment, which earns quarterly revenues of $2 million–$4 million. The division is likely to report modest revenue growth in fiscal 4Q16. The division's operating margin stood at 26% in fiscal 3Q16 and is likely to remain at this level in fiscal 4Q16 as well.
However, the division is looking to improve its margins in fiscal 2017 by transferring its complete programmable chips manufacturing to its Fab 25. Things may further improve as AgigA Tech launches new products to meet data center requirements.
AgigA Tech's product launches
AgigA Tech recently launched AGIGARAM DDR4 (double data rate) NVDIMM-N that meets JEDEC (Joint Electron Device Engineering Council) standards. The JEDEC-compliant NVDIMM-N is high-speed, high-density, battery-free nonvolatile memory that has low latency and high endurance like that of DRAM (dynamic random access memory).
JEDEC standards for NVDIMM-N are in line with the high-performance persistent memory requirements of enterprise-class storage and server applications. This product marks Cypress's entry in the high-margin data center space. Xilinx (XLNX) has an operating margin of 30.5% due to its large exposure in the data center and military and aerospace markets. Intel's (INTC) programmable solutions business has an operating margin of 18% due to its high exposure in the data center market.
Article continues below advertisement
If the new product proves to be a success, ETD revenue and profit could grow significantly. In a press release, AgigA Tech president, Ron Sartore, said, "With the recent release of the JEDEC NVDIMM-N standards, this market is poised for significant growth in the coming years, with multiple market reports forecasting well over $1 billion by 2020."
AgigA Tech's other products 
At present, AgigA Tech offers 8-GB (gigabyte) and 16-GB NVDIMM-N module solutions and plans to launch a 32-GB solution later in 2017. Among other offerings are controller chipset solutions that enable OEMs (original equipment manufacturers) to develop their own NVDIMM-N products and a line of PowerGEM modules that provide power during data backup.
Low profits and high expenses are stressing Cypress's finances. Next, we'll look at the company's balance sheet and understand its short and long-term financial stability.