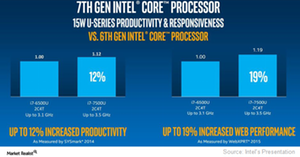 What Intel's New Kaby Lake Processor Has in Store for PC Users
By Puja Tayal

Jan. 24 2017, Updated 3:37 p.m. ET
Kaby Lake inside desktops and laptops
In the previous part of the series, we saw that Intel (INTC) could face some competition from Advanced Micro Devices (AMD) in the PC space and Qualcomm (QCOM) in the notebook space in fiscal 2017. While Microsoft's (MSFT) Windows 10 wasn't able to encourage consumers to upgrade their PCs, Intel is now eyeing UHD (ultra high definition) 4K viewing and VR (virtual reality) to boost PC sales.
Intel launched its seventh generation Core processor Kaby Lake for ultra-thin laptops in August 2016. At the 2017 CES (Consumer Electronics Show), it launched the versions for laptops and desktops. The Core i7-7700K has the same 8-MB (megabyte) Smart Cache and 91-watt thermal design power as its predecessor i7-6700K. There was no change in the graphics and memory solutions. However, i7-7700K is faster and more responsive than i7-6700K.
Article continues below advertisement
Kaby Lake's features
Intel claims that Kaby Lake delivers up to 12% more productivity than its predecessor. Moreover, Kaby Lake supports 4K content, allowing users to stream 4K movies and TV series on Netflix (NFLX) and other services from their PCs.
Users can also create their own 4K content using Kaby Lake alongside Intel HD7 and Intel Iris Plus Graphics. Users can also transfer and display their dual 4K video simultaneously using Thunderbolt 3. Kaby Lake also supports VR and gaming while delivering power efficiency. Other features include built-in two-factor authentication and payments through a fingerprint.
Review of Kaby Lake
A review of Kaby Lake by GeekBench 3 showed that the Core i7-7700K delivers 20% better single-core performance and 18% better multi-core performance than the Core i7-6700K. Even for video transcoding, the Core i7-7700K was almost 30% faster than the Core i7-6700K.
Ars Technica also reviewed Kaby Lake and reported that the processor offers no significant performance boost over Skylake. Intel hasn't made any major architectural change in Kaby Lake other than the 4K support. The website stated that a 10% or 15% performance boost is not sufficient to encourage consumers to upgrade their PCs.
With the advent of increased memory and SSDs (solid state drives), computer performance is determined by more than just the CPU (central processing unit). Ars Technica reported that Intel's new technology model aims to optimize the existing architecture rather than introduce new architecture. Kaby Lake is an optimization of the Skylake architecture.
Next, we'll look at Intel's product strategy for Kaby Lake.