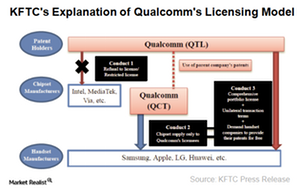 US, Korea, Apple Attack Qualcomm's Patent Licensing Practices
By Puja Tayal

Updated
Qualcomm faces legal attack over its patent licensing practices
Lawsuits are common for Qualcomm (QCOM). In the last 60 days, the company has faced three legal challenges from the respective Fair Trade Commissions of Korea (EWY) and the United States, as well as a lawsuit from its biggest customer, Apple (AAPL).
These lawsuits follow Qualcomm's antitrust settlement with China's regulator, which saw the chip supplier pay a $975 million fine and reduce its royalty rates on certain phones sold in China.
Article continues below advertisement
Korea Fair Trade Commission's case
In December 2016, the KFTC (Korea Fair Trade Commission) imposed a fine of $853 million on Qualcomm as it found the chip supplier's licensing practices to be monopolistic. It accused the company of three anti-competitive acts.
Firstly, Qualcomm does not license SEP (standard essential patents) on FRAND (fair, reasonable, and non-discriminatory) terms. This means it charges high fees for basic cellular technologies, leaving handset makers with no option but to agree to the higher fees. Moreover, it refuses to license its technology to competitors.
Secondly, Qualcomm bundles SEP and non-SEP patents. It supplies chips only if the handset maker agrees to its licensing terms, which also includes licenses the handset maker doesn't want.
Thirdly, Qualcomm's licensing terms with handset makers prevent competition. It first charges a one-time license fee and then it charges a certain percentage as royalty on the selling price of each handset sold.
The KFTC made the above accusations after gathering feedback from Intel (INTC), MediaTek, Samsung (SSNLF), Apple, and other industry players. The commission noted that Qualcomm's share in the LTE market increased from 34% in 2010 to 69% in 2015 while many competitors exited the market.
US Federal Trade Commission's case
In January 2017, the US FTC also accused Qualcomm of anticompetitive licensing practices that prevented competitors from supplying chips to handset makers. Both cases highlighted Qualcomm's deals with Apple.
Article continues below advertisement
Apple's complaint
Just three days after the US FTC case was filed, Apple filed its own suit accusing Qualcomm of charging five times more in licensing fees than all other cellular patent licensors combined. Apple further accused that Qualcomm has withheld its payment of ~$1 billion as retaliation for responding to the US and Korea's antitrust investigations.
Qualcomm's response to the lawsuits
Qualcomm (QCOM) denied all the above claims and vowed to fight the lawsuits. It stated that it has been using this licensing model for years and that it had generated profits for both handset makers and itself.
All three lawsuits coming at the same time is not coincidental. Next, we'll see what triggered these lawsuits after so many years.