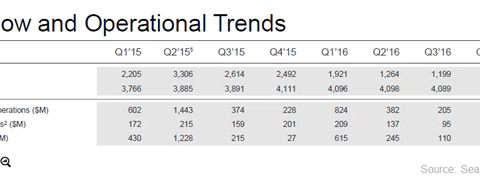 Why Did Seagate Close Its Factory in China?
By Adam Rogers

Updated
Over 2,000 employees laid off
Last week, Seagate (STX) announced the closure of its manufacturing unit in Suzhou, China (FXI). This means the jobs of 2,127 workers employed in the facility will be terminated. Seagate clarified that the decline in mechanical hard drive sales in the last few quarters prompted this decision.
Seagate had acquired the factory way back in 2006, when the firm bought Maxtor for $2 billion. Seagate was then the largest manufacturer of hard drives, followed by Western Digital (WDC) and Maxtor. The facility produced hard drives (portable and external) under Maxtor's brand name.
Seagate also stated that the closing of its Suzhou plant was planned in July 2016 as part of its cost reduction activities. Last year, several hardware companies—such as NetApp (NTAP) and Cisco (CSCO)—announced layoffs as well.
Capital expenditure at 5% of revenue
Article continues below advertisement
As Seagate continues to manage the shift in its product portfolio and customer demand, it's aligning the operating model of its HDD business to optimize its manufacturing footprint. Seagate stated that it now wants to reduce capital expenditure in order to maintain capital requirement levels at approximately 5% of total revenue in fiscal 2017. This move should allow Seagate to operate at or near full capacity.
Seagate will now cater to meeting customer demand instead of managing excess capacity. The firm believes that cost alignment activities, coupled with its high-capacity HDD product portfolio, will positively impact gross margins and overall profitability in fiscal 2017.