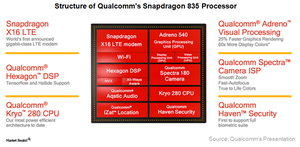 Qualcomm's Next-Generation Snapdragon 835 Processor
By Puja Tayal

Updated
Qualcomm's Snapdragon 835 processor targets connected devices
In the previous part of this series, we saw that Qualcomm (QCOM) is witnessing strong growth in its Chipset business, driven by the increasing adoption of its Snapdragon 600 and 400 series and Snapdragon 821 processor. Encouraged by the success of its flagship Snapdragon processors and its move in the adjacent market, Qualcomm unveiled the Snapdragon 835 processor at the 2017 CES (Consumer Electronics Show).
Unlike its predecessor Snapdragon 821, the Snapdragon 835 processor is aimed at connected devices. This marks another stride by Qualcomm toward adjacent markets.
Article continues below advertisement
A peek inside Snapdragon 835
With Snapdragon 835, Qualcomm has become the first company in the world to launch a 10nm (nanometer) chip. The processor is being exclusively built on Samsung (SSNLF) and Global Foundries's 10nm node.
According to Qualcomm, the Snapdragon 835 is 35% smaller and consumes 25% less power than Snapdragon 821. This would help deliver improved battery life.
Snapdragon 835 for VR/AR
The Snapdragon 835 features a new semi-custom Kryo 280 CPU (central processing unit) that consumes less power and Adreno 540 GPU (graphics processing unit), which supports VR/AR (virtual and augmented reality). It also includes Spectra 180 ISP (image signal processor) that supports 4K video and helps deliver immersive experience through advanced photography.
The processor also features Aqstic audio, which is an object- and scene-based 3D audio to deliver a more immersive experience inside AR/VR or merged reality.
Article continues below advertisement
Snapdragon 835 for machine learning
The Snapdragon 835 features a new Hexagon 682 DSP (digital signal processor), which supports Google's (GOOG) TensorFlow for machine learning. Apart from hardware, Qualcomm also upgraded its Snapdragon Neural Processing Engine software development kit to support TensorFlow and custom neural networks.
Snapdragon 835 for high-speed Internet
The Snapdragon 835 also features Qualcomm's Haven security platform, which offers fingerprint and retina authentication as well as device attestation. On the connectivity front, the processor has Wi-Fi and a Snapdragon X16 LTE modem that supports 1 Gbps (gigabit per second) of peak download speed.
With a faster Internet and advanced GPU that supports AR/VR, the Snapdragon 835 would enable devices to stream live 360-degree videos. Intel (INTC) and Twitter (TWTR) are also working on live video streaming technology.
All these features increase the addressable market of Snapdragon 835 beyond smartphone applications and into other IoT devices such as VR headsets, drones, and machine learning applications. This would help Qualcomm boost its Chipset business significantly in fiscal 2017.
The company is already sampling Snapdragon 835 with some customers, and devices powered by this processor are likely to be available in calendar 1H17.
Next, we'll look at the company's Licensing business.