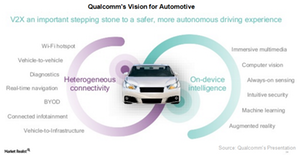 Qualcomm Aims Its Technology Developments toward Adjacent Markets
By Puja Tayal

Feb. 6 2017, Updated 7:36 a.m. ET
Qualcomm in the adjacent markets
In the earlier parts of this series, we saw that the slowdown in smartphone sales has lowered Qualcomm's (QCOM) growth in its Licensing and Chipset business. The company is, therefore, expanding in the adjacent markets of automotive, IoT (Internet of Things), and servers. Qualcomm announced the acquisition of the world's largest automotive semiconductor company, NXP Semiconductors (NXPI), in fiscal 2016.
Article continues below advertisement
At the Barclays Global Technology Conference, Qualcomm's chief financial officer, George Davis, stated that the company increased its revenues from IoT from ~$1.7 billion in 2015 to $2.5 billion in 2016, which equates to 15% of the Chipset business revenues. The company is moving quickly in the automotive space with several product launches, acquisitions, and partnerships.
Partnerships
Qualcomm is cooperating with German car maker Volkswagen to develop infotainment systems. The chipset maker is looking to integrate the production of NXP's advanced sensing technology with its CPUs (central processing unit) and GPUs (graphics processing unit) to optimize its heterogeneous integration and computing capabilities.
Article continues below advertisement
Qualcomm: Part of ConVeX consortium
Qualcomm is also a part of the ConVex (Connected Vehicle to Everything of Tomorrow) consortium that is looking at ways of connecting V2X—Vehicle-to-Vehicle, Vehicle-to-Infrastructure, and Vehicle-to-Pedestrian. Qualcomm aims to bring the seamless connectivity of phones into cars.
Snapdragon X16 LTE modem
Qualcomm has developed a new class of high-bandwidth, Gigabit-class modem Snapdragon X16 LTE for vehicles. It offers 1 Gigabit of peak download speed. This would bring the high Internet connection speed of Wi-Fi inside cars and enhance in-car connectivity.
Article continues below advertisement
Qualcomm's Drive Data Platform
At the 2017 Consumer Electronics Show, Qualcomm unveiled its Drive Data Platform, which collects and analyzes data from a vehicle's sensors. This helps the car accurately detect location, monitor and learn driving patterns, perceive surroundings, and capture and share this data.
Qualcomm is also offering a deep-learning software development kit along with the Drive Data Platform to enhance machine learning capabilities in autonomous cars.
Qualcomm in the IoT and server market
Qualcomm has unveiled Snapdragon Flight development platform, which would act as the brain of a drone, helping it sense and map its surrounding without external computing power. This would increase the adoption of drones in emergencies and other industrial applications.
Qualcomm is partnering with the OneWeb satellite constellation in its efforts to provide global Internet broadband service to individual customers. The chip supplier is also sampling the world's first 10nm server processor Centriq 2400, targeted at performance-oriented data center applications.
Next, we'll see how Qualcomm's transition to the adjacent markets would impact its balance sheet.