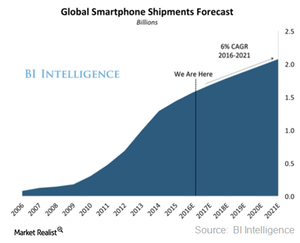 How the Global Smartphone Market Slowdown Is Affecting MU, QCOM
By Puja Tayal

Updated
Global smartphone market witnesses a shift in consumer demand
So far, we've learned that growth may not be in sight for PCs, which are the second-largest semiconductor end market. Growth is also slowing in the largest semiconductor end market, smartphones, which is dominated by Qualcomm (QCOM).
Within the smartphone market, consumer demand is shifting from high-end phones from Samsung (SSNLF) and Apple (AAPL) to mid- and low-end phones from Chinese handset makers such as Huawei and Oppo. Hence, smartphone shipments could rise strongly, but sales will likely rise slowly in 2017.
Article continues below advertisement
CCS Insight expects the global mobile phone market to rise from 2.0 billion units in 2014 to 2.4 billion units in 2019. Demand in Western European and North American markets is expected to peak in 2017 before hitting a downward trend, whereas demand in emerging markets may continue to grow throughout the forecast period.
Why are smartphone sales slowing?
The smartphone industry is suffering from technology stagnation. Chinese phones are offering similar—and sometimes better—features to Samsung's and Apple's high-end phones. Also, the slowdown in the global economy has reduced consumers' buying power, so they're waiting for more advanced technologies before upgrading their phones.
This trend saw Apple report its first fall in iPhone sales in 2016. It once again cut its iPhone production in December 2016, according to Nikkei. Unless a disruptive new technology arrives, as the iPhone did in 2007, smartphone demand is unlikely to revive.
Samsung is working on bendable OLED (organic light-emitting diode) screens, but no update has been provided so far. Apple is looking to bring Micron's (MU) 3D XPoint technology to its mobile products to encourage consumers to upgrade.
Another major upgrade is 5G (fifth-generation) technology, which could encourage consumers to upgrade their phones. However, this development is unlikely to come to fruition before 2020.
How is the changing smartphone trend impacting semiconductor companies?
Most Chinese handset makers use Qualcomm's Snapdragon processors. The shift to mid- and low-end phones has helped Qualcomm to regain some of the revenue it lost from Apple and Samsung, which switched to in-house processors. However, the slowdown in smartphone sales has hindered Qualcomm's future growth prospects. Therefore, the company is diversifying into alternate markets.
On the other hand, Micron is shifting its production to mobile DRAM (dynamic random access memory), as memory content per device is increasing. 2017 will likely be a slow year for the smartphone market but a strong year for the data center market. 
Next, let's look at the data center market and its impact on the semiconductor market.