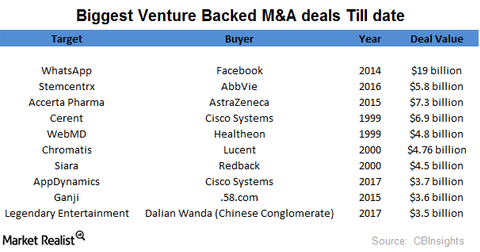 Does Cisco's Buyout of AppDynamics Indicate an Ongoing Buyout Trend?
By Anne Shields

Updated
AppDynamics acquisition is one of the biggest M&A deals backed by VC firms
So far in the series, we've discussed AppDynamics' acquisition by Cisco (CSCO). Cisco's offer price of $3.7 billion marked the largest acquisition multiple a target has garnered for itself. Cisco's strong cash reserves and its repatriation support the likelihood of a continuing acquisition spree. As the below chart from CBInsights shows, the AppDynamics acquisition is the eighth biggest M&A deal that involved VC (venture capital) financing. The WhatsApp buyout by Facebook (FB) for $22 billion tops the list both in terms of size and RoI (return on investment).
Article continues below advertisement
Nearly half of the target companies were from the tail end of the tech bubble. Tech bubble happened in the late 1990s and was characterized by a swift rise in equity markets encouraged by investments in Internet-based companies. The rest of the companies emerged in the last three to five years, raising the concern of the likelihood of a similar valuation bubble.

Cisco AppDynamics deal could spark M&A spree in the cloud space
Leading software companies have been busy acquiring companies that could diversify their offerings, enhance their reach and domain expertise, and generate revenues and earnings.
Hewlett Packard Enterprise's (HPE) and Cisco's respective acquisitions of Simplivity and AppDynamics show that the M&A (mergers and acquisitions) trend that engulfed the entire tech sector in 2016 is likely to continue in 2017.
It's likely that AppDynamics' acquisition will mark the onset of a merger and acquisition (or M&A) spree in the overall tech space. We saw a similar trend in the cloud space in 2016 when, in a bid to outdo each other and gain domain expertise and market share in the cloud space, software companies engaged in an M&A spree.