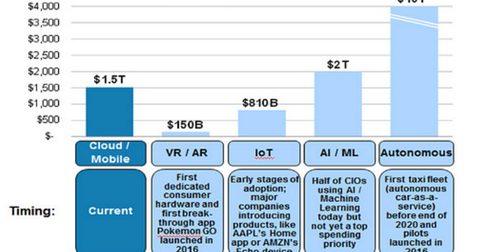 Why Salesforce Is Likely to Grow in 2017
By Anne Shields

Updated
Salesforce's strength: CRM and SaaS
As we've already discussed in this series, Microsoft (MSFT) and other players growing prominence in CRM (customer relationship management) and SaaS (software-as-a-service) pose a threat to Salesforce (CRM). CRM is the largest component of SaaS and is the fastest-growing sector in the cloud computing space.
But despite the growing competition, Salesforce still dominates CRM space with a significant market share. Its position will further be strengthened by its opportune interest and strategic acquisitions in AI (artificial intelligence).

Article continues below advertisement
According to Barrons blog, Morgan Stanley analyst Keith Weiss stated: "Within applications, the focus of enterprises and CIOs today is the front office, and in particular front office SaaS-based applications. There is no vendor with better exposure to SaaS-based front office applications than Salesforce.com. Further, Salesforce.com continues to stay ahead of key secular themes in the space, with direct participation in machine learning, mobile computing, Internet of Things, [and] social and cloud computing, broadly."
As a result, increased cloud adoption, especially of SaaS, has benefitted Salesforce and will likely continue to do so in future.
Other technologies that will dominate
SMAC (social, mobile, analytics, and cloud) technologies have engulfed the current IT (information technology) environment. After SMAC, VR (virtual reality), AR (augmented reality), the IoT (Internet of Things), AI (artificial intelligence), machine learning, and autonomous vehicles are the key areas that are expected to drive the $13 trillion in spending that is expected in the next computing cycle.
According to Barron's columnist Tiernan Ray, Morgan Stanley (MS) hardware analyst Katy Huberty stated: "Cloud adoption is inflecting higher and we see whitebox maker Quanta, and companies that can move up-the-stack, like IBM, as beneficiaries."
Other acquisitions and launches
Apart from IBM, if we look at the major acquisitions announced by Microsoft (MSFT), Google (GOOG), and Salesforce, they've all revolved around at least one of these themes.
Notably, in 2016, Salesforce launched its AI platform, Salesforce Einstein, a result of companies' various acquisitions in the AI-ML (machine learning) space. MetaMind and PredictionIO were two other acquisitions Salesforce announced in the AI space.