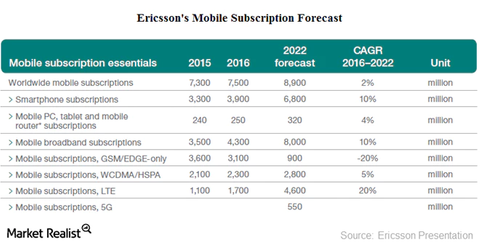 Can Ericsson Rebound after a Difficult 2016?
By Adam Rogers

Updated
Ericsson stock rose 13.9% in December 2016
Ericsson (ERIC) stock rose 13.9% in December 2016. However, the last year was a disappointing one for Ericsson. Its stock fell 37% in 2016. Ericsson has been facing a challenging macroeconomic environment for awhile now. At the company's investor event in November 2016, it stated that a challenging environment, primarily in emerging markets, had impacted the investment levels of telecommunications (telecom) equipment companies. Operator investment levels in Europe were also slow, while they were stable in the United States (SPY).
The company's sales were impacted by industry trends, which had been negatively affecting the mobile equipment sector since early 2016.
Article continues below advertisement
What are the key drivers for Ericsson?
According to Ericsson's November 2016 Mobility Report, mobile video traffic is expected to rise 50% YoY (year-over-year) between 2016 and 2022. Although social networking driven by Facebook (FB) and Twitter (TWTR) is expected to rise 39% YoY until 2022, its share in total mobile traffic is expected to account for 10% in 2022, a fall from 15% in 2016 due to strong growth in video consumption.
The Mobility Report also states that the number of smartphone subscriptions reached the 1 billion milestone in 2012 and the 2 billion milestone in 2014.
Ericsson expects mobile subscription growth to be driven by emerging markets (EEM) such as the Middle East, Asia, and Africa. The company expects smartphone subscriptions to rise more than 70% between 2016 and 2022.
As shown in the above chart, smartphone subscriptions are expected to rise from 3.9 billion in 2016 to 6.8 billion in 2022. Rising mobile subscriptions are key for communications equipment companies such as Ericsson, Cisco (CSCO), and Nokia (NOK).