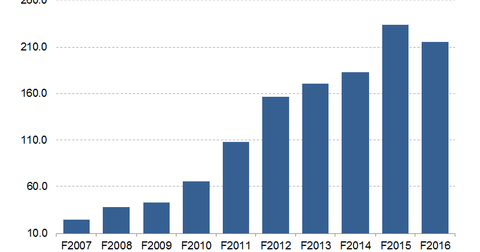 Apple Brings the Battle to Samsung's Doorstep
By Ruchi Gupta

Jan. 12 2017, Updated 9:07 a.m. ET
South Korea store in the works
Apple (AAPL) appears to be leaving nothing to chance to reverse its dwindling fortunes, which have recently led the company to its first annual revenue decline in nearly 15 years. Aside from plotting an iPhone overhaul, rumors have emerged that Apple is gearing up to open its maiden company-owned retail store in South Korea, Samsung's (SSNLF) home country.
The timing of a South Korea store could be strategic for Apple because the news comes in the year that Samsung is hoping to recoup its losses after the disastrous 2016 recall millions of Galaxy Note 7 devices amid the serious safety scare over exploding batteries.
If Samsung's massive recall caused some of its customers in South Korea to worry about owning another Samsung handset, Apple hopes the local store will offer it an opportunity to pursue such customers to defect to iPhone.
Article continues below advertisement
Dominant smartphone brands in South Korea
Samsung and LG Electronics control ~80% of South Korea's smartphone market, which could be a huge market potential for Apple—if the latter company can convince South Koreans to get an iPhone and enjoy the exclusive services of Apple Pay and Apple Music.
Apple has relied on phone carriers and independent retailers to sell iPhones in South Korea, but the company has begun hiring store associates to run its native outlet. The company hasn't disclosed where it plans to locate its South Korean store, but a Wall Street Journal report indicated Apple could use a site near Samsung's headquarters in Seoul.
Outlet to coincide with 10-year milestone
Apple's opening of a South Korea outlet would also coincide with its 10th anniversary in the smartphone business. But the move also comes when Apple is struggling to fend off tough competition from Samsung, Sony (SNE), Microsoft (MSFT), Alphabet (GOOGL), and China's (FXI) (MCHI) Huawei and Xiaomi in emerging markets.