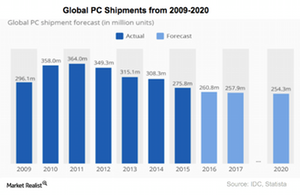 How Could PC OEMs Benefit from the Microsoft–Qualcomm Partnership?
By Puja Tayal

Dec. 23 2016, Updated 2:05 p.m. ET
Windows on ARM attracts attention of PC OEMs
Microsoft (MSFT) is looking to make its way into mobile PCs such as phablets,[1. tablets with cellular capabilities] notebooks, and laptops by bringing Windows 10 to Qualcomm's (QCOM) ARM processor Snapdragon 835. This not only excites Microsoft and Qualcomm but also PC OEMs[2. original equipment manufacturers] that have been struggling with declining shipments.
According to unnamed sources in the upstream PC supply chain, many PC vendors are already developing and testing notebooks and tablets using Qualcomm's Snapdragon 835. These vendors plan to launch the final devices in 2H17.
Article continues below advertisement
PC OEMs hit by declines in PC shipments
As seen from the chart above, PC shipments started to fall in 2011 and have been falling ever since. Lenovo, the world's largest PC maker, has been reporting year-over-year shipment declines since 2Q15.
IDC (International Data Corporation) expects global PC shipments to fall further in 2017 and beyond. Gartner stated that PC shipments are falling as other consumer devices such as mobile and tablets have reduced the need for PCs. As a result, consumers are not encouraged to upgrade their PCs.
In emerging markets, consumers prefer smartphones and phablets over PCs for their computing needs. Hewlett-Packard (HPQ) and Dell, the world's second- and third-largest PC makers, reported PC shipment growth in 3Q16 due to increasing demand from the business segment.
Mobile PCs such as notebooks, two-in-ones, and Windows tablets are reporting positive growth, which is being offset by strong declines in desktop PCs. Microsoft and Qualcomm have collaborated to bring Windows to mobile PCs, encouraging hardware makers to build lightweight PCs with an integrated cellular modem. This would bridge the gap between smartphones and PCs, as tablets and notebooks would be able to connect to cell networks while having a longer battery life than most laptops.
Why are PC OEMs excited about cellular PCs?
In a declining PC market, vendors have been looking for innovation that could encourage consumers to upgrade their PCs. Cellular PCs offer some promise to PC makers, giving them an extra feature to differentiate their products.
It has yet to be seen whether cellular PCs turn out to be a hit among consumers, but PC makers are willing to give it a shot. As Qualcomm's processors require cheaper materials, PC makers can sell the end devices for less than $200 and still earn their standard gross margins of 20%–30%. Here, PC OEMs can earn from volume rather than price.
It remains to be seen whether Windows on ARM succeeds in pumping up PC demand in 2017 and 2018. Next, we'll see how the use of ARM chips in PCs and servers could impact ARM Holdings (ARMH).