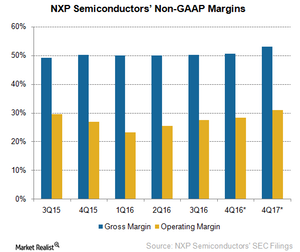 How Freescale Merger Synergies Are Impacting NXP's Margins
By Puja Tayal

Updated
How do NXP's margins look before merging with Qualcomm? 
Automotive and secure connected devices will likely drive NXP Semiconductors' (NXPI) revenue in 2017. Meanwhile, the company's Freescale acquisition should also drive its profit margins in 2017, before Qualcomm (QCOM) integrates NXP by the end of the year.
The Freescale acquisition didn't bring any improvement in NXP's gross margin, but it caused a lot of volatility in its operating margin.
Article continues below advertisement
Gross margin
NXP's non-GAAP (generally accepted accounting principles) gross margin has been stable at around 50%, even after the Freescale merger. It's likely to rise to 53% by 4Q17. However, its 53% margin is still lower than Qualcomm's gross margin of 59%.
Qualcomm doesn't bear factory overhead costs like NXP does, as it outsources its manufacturing to Samsung (SSNLF) and TSMC (TSM) foundries. The integration of NXP would add factory overhead costs to Qualcomm's COGS (cost of goods sold), which would likely cause the combined company's gross margin to fall below 58%.
However, the merger could help NXP reduce its COGS, as it would gain the power to negotiate better prices from suppliers. Hence, the merger could bring $175 million in annual savings from COGS.
Operating margin
Following its Freescale acquisition, NXP's non-GAAP operating margin fell from 27% in 4Q15 to 23.3% in 1Q16 due to the high cost of integration. Over the past three quarters, NXP has realized merger synergies, bringing its operating margin to the pre-acquisition level of 27.5% in 3Q16. This improvement in gross margin suggests that the company has already exceeded $500 million in annual cost savings from the merger in just nine months.
NXP expects its operating margin to improve to 28.3% in fiscal 4Q16 as it continues to realize cost savings from the merger. NXP expects to improve its operating margin to 31% in 4Q17, before it's integrated with Qualcomm.
NXP's integration with Qualcomm could bring $500 million in annual cost synergies over the next two years, 65% of which could come from reductions in operating expenses. Qualcomm could use NXP's strong sales channel to sell its products in the IoT (Internet of Things) and automotive spaces. NXP could use Qualcomm's strong research background to innovate comprehensive embedded and automotive solutions. This would avoid the duplication of work, and it would also reduce expenses.
While the Qualcomm deal is another year away, NXP is making efforts to improve its 2017 margins by divesting its low-margin Standard Products division. We'll see how this could impact the company's margin in the next part of the series.