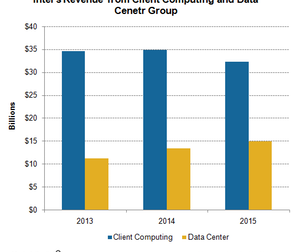 How Qualcomm's Presence in the PC and Server Market May Impact Intel
By Puja Tayal

Updated
Qualcomm's product announcements threaten Intel's dominance
In the last few parts of this series, we saw that Qualcomm (QCOM) is posing a head-on challenge to compete with Intel (INTC) in the PC and data center markets. While this may not have any immediate impact on Intel's fiscal 2017 earnings, it still poses a threat in the long term.
Competing with a behemoth like Intel in its own core markets is a tough road to travel. Many ARM server chipmakers and Advanced Micro Devices (AMD) have tried unsuccessfully to make their marks in the PC and data center markets. However, Qualcomm's expertise in ARM chips could allow it to become the first company to pose strong competition to Intel in the mobile PC, data center, automotive, and IoT (Internet of Things) space.
Article continues below advertisement
PC revenues important to Intel
As seen from the chart above, Intel's revenue from its CCG (Client Computing Group) segment has been falling while that from DCG (Data Center Group) has been rising. Although Intel is shifting its focus away from PCs toward IoT, data center, and memory, PC still commands 58% of its revenue.
Even in the PC space, there are two segments that are growing—low-cost PCs and two-in-one laptops. Qualcomm is targeting these two growth segments with its ARM processors. These ARM chips could compete with Intel's Celeron, Pentium, and Core i3 chips in the low-end PC space. If Qualcomm succeeds in getting some market share, it could accelerate the decline of Intel's CCG revenues.
Will Qualcomm's entry into data center space impact Intel significantly? 
DCG is Intel's key growth market and has been growing steadily over the past few years. Qualcomm (QCOM) is looking to target cloud companies like Facebook (FB) and Google (GOOG) in the data center market. This is the same market that provides most of Intel's revenues. Cloud companies could welcome competition in the server chip space, as this would give them some bargaining power with Intel.
If Intel enters a price war, the lucrative aspect of the data center market—its high margins—could fade away.
Moreover, the data center is a different competitive landscape that encompasses more factors than just shrinking nodes. If Qualcomm's Centriq 2400 server manages to gain a foothold, Intel could easily wash away the competition by launching low-cost, low-power server chips that deliver better performance. As a result, Qualcomm has adopted a wait-and-see approach with its server chips.
Even if Qualcomm is able to get a few server installations, it would not have a significant impact on Intel's market share. However, Intel should act quickly in the PC space to maintain its dominant position. We'll look into this in the next part.