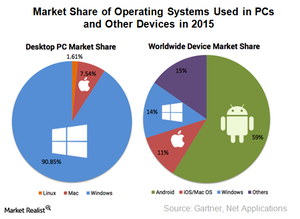 Qualcomm Wages War against Intel in the PC and Server Market
By Puja Tayal

Updated
Qualcomm's product strategy for adjacent markets
Qualcomm (QCOM), a leader in the smartphone semiconductor market, has been plagued by the slowdown in smartphone sales. We've been hearing that the company is looking to transition to the adjacent markets of IoT (Internet of Things), data center, and automotive.
In 2017, we could see some major transitions in Qualcomm's business as it launches 10nm (nanometer) chips before Intel (INTC) does.
With the acquisition of NXP Semiconductors (NXPI), Qualcomm would become a leader in the automotive semiconductor space and get an edge in IoT devices. Now, it's opening a direct challenge to Intel by entering the notebook and server business. Qualcomm made two major product announcements in this direction in the first half of December 2016.
Article continues below advertisement
Qualcomm and Microsoft partner to build cellular PCs 
As seen from the chart above, Microsoft (MSFT) dominates the PC operating system space but lags behind in the device market. At the WinHEC (Windows Hardware Engineering Community) event, Microsoft announced that it has partnered with Qualcomm to bring Windows 10 computing to mobile devices. This move comes after Intel exited the mobile processor market due to strong competition from Qualcomm's ARM processors.
As a result, Microsoft decided to partner with Qualcomm, whose Snapdragon ARM processors power 95% of the world's smartphones. Windows 10 would be compatible with Qualcomm's upcoming Snapdragon 835 built on Samsung's (SSNLF) 10nm node.
With this partnership, Microsoft aims to tap the notebook and tablet market and implement Windows on Android and other operating systems. The software giant calls these devices cellular PCs, as they are tablets with cellular connectivity. This would expand Qualcomm's market to include tablets and notebooks.
Qualcomm set to launch its first ARM-based server
Apart from the PC space, Qualcomm (QCOM) is set to challenge Intel in the server space with Centriq 2400, its first ARM-based[1. Advanced RISC Machines] server processor. This is not the first ARM-based server processor that has tried to compete with Intel.
ARM server chipmakers such as Calxeda, Cavium, and Applied Micro are still struggling against Intel's Xeon. However, Qualcomm has a better chance than its peers to succeed, given its expertise in designing ARM chips. It has a track record of beating Intel in the smartphone market by utilizing its ARM chips. However, it would face several challenges in the data center space, as Intel commands more than a 95% share in this market.
Moreover, Qualcomm would face competition from IBM's (IBM) Power 9 and Advance Micro Devices's (AMD) Zen processors.
Both products are set to enter the market in 2H17 and should be built on Samsung's 10nm node. In this series, we'll look at Qualcomm's product strategy and how the entry of these new products would impact Intel, Microsoft, and its PC and server customers.