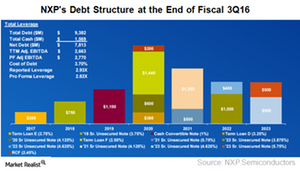 Is NXP Semiconductors' High Leverage a Bad Sign?
By Puja Tayal

Updated
NXP's cash and debt position
In the previous part of the series, we saw that NXP Semiconductors (NXPI) increased its leverage twofold with its $12 billion acquisition of Freescale. At the end of 3Q16, NXP's total debt stood at $9.4 billion, compared to its cash reserve of $1.6 billion, bringing its net debt to $7.8 billion.
Looking at its highly leveraged balance sheet, NXP seems to be in the deep red with no financial flexibility. However, it's also important to note that the Freescale merger increased NXP's annual FCF (free cash flow) 250% to $1.8 billion. The company is now looking to channelize its FCF and all proceeds from the sale of its non-core assets toward debt repayment.
Article continues below advertisement
Debt repayment strategy
In 1Q17, NXP will receive $2.3 billion in net proceeds from the sale of its Standard Products division. The company will likely use the proceeds to repay a portion of its debt. Even Broadcom (AVGO) sold its non-core wireless IoT (Internet of Things) business to Cypress Semiconductor (CY) and used the proceeds to repay a portion of its debt.
NXP plans to use this $2.3 billion in net proceeds to repay three tranches of its debt:
$389 million term loan due in 2017 carrying an interest rate of 2.75%
$500 million senior unsecured notes due in 2021 carrying an interest rate of 5.75%
$1 billion term loan due in 2020 carrying an interest rate of 2.5%
Following the above repayments, NXP will have a total debt of $7.5 billion with a weighted cost of debt of 3.6%. After deducting its cash reserves of $1.6 billion, the company's net debt would stand at $5.9 billion.
NXP's leverage manageable with renewed FCF 
Even with a net debt of $5.9 billion, NXP's balance sheet looks highly leveraged. If we look at the company's debt maturity cycle from 2018 to 2023, this debt is manageable.
Following its Freescale merger, NXP's annual FCF rose to $1.8 billion, and its debt maturity cycle doesn't show a single year in which its debt is above its FCF amount. Even for 2020 and 2021, during which its debt will be above $1.8 billion, NXP plans to repay a major chunk in 1Q17.
Even if its FCF isn't stable and it faces a slowdown in the long term, NXP's credit rating could improve after 2020. This, in turn, could help the company to refinance its remaining high-cost debt at a lower rate with an even longer maturity.
However, things could get better for NXP, as it's now being acquired by Qualcomm (QCOM), which has strong cash reserves. Next, we'll see how this news has affected QCOM's and NXP's stocks.