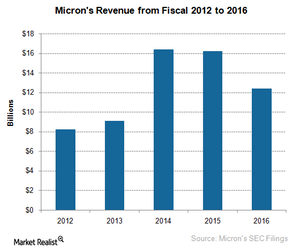 Micron Is Set to Leverage the Hot Memory Market
By Puja Tayal

Updated
Micron's 2016 Christmas gift?
A lot has happened for the United States-based memory maker Micron Technology (MU) over the past two months. The company's stock reached its 52-week high of $20.99 in December 2016 after it announced the completion of the Inotera acquisition.
Moreover, the company revised its fiscal 1Q17 guidance upward at the Credit Suisse 20th Annual Technology, Media & Telecom Conference held on November 29, 2016. It's important to note that this guidance excludes the impact of Inotera acquisition on Micron's earnings as the completion of the acquisition was announced on December 6, 2016.
Article continues below advertisement
DRAM oversupply a thing of past
Micron's revenue almost doubled in fiscal 2014 after the industry was hit by a DRAM (dynamic random access memory) supply shortage. Competitors also took advantage of this situation and boosted production to meet the growing demand.
However, demand fell significantly in fiscal 2015 and 2016, which caused oversupply. The situation worsened to such an extent that Micron slipped into the red in fiscal 2016.
Micron is at the right place at the right time
Now, the market conditions for DRAM are improving, now that Samsung (SSNLF) and SK Hynix suspended their DRAM production to focus on NAND. This has reduced supply, while the demand for DRAM has increased. Micron is seeing increasing demand for its high-end DRAM products from Nvidia (NVDA).
At a time when the DRAM market is hot, Micron completed the Inotera deal, which could help it produce DRAM at a lower cost.
Article continues below advertisement
DRAMeXchange reported that the demand for client-grade SSDs is rising as more and more laptops and notebooks are replacing HDDs (hard disk drives) with SSDs. It expects the average prices of mainstream client-grade SSDs carrying TLC (triple-level cell) NAND Flash to rise by 6% to 9% sequentially in the December 2016 quarter. At this peak time, Micron started shipments of its 3D NAND-based SSDs.
Micron shifts focus away from PC
Micron acknowledged that the PC-dependent memory market is now shifting toward the server, automotive, mobile, embedded, and networking. Tech giants like Hewlett Packard Enterprise (HPE) are increasingly adopting all-flash data center model to address the need for flexible storage.
Responding to this trend, Micron launched its Enterprise 5100 Series SATA SSD product in December 2016. Micron is likely to launch its 3D XPoint-based products for data center and mobile under the QuantX brand in fiscal 2017.
In this series, we'll see how the combination of Micron's fundamentals and market forces will likely impact its earnings in fiscal 2017.
Let's start with the Inotera deal.