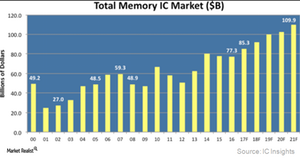 Micron Is More Sensitive to Memory Market than Samsung and Intel
Micron benefits from improvement in the memory market
In this series, we've seen that Micron Technology (MU) and analysts expect memory prices to rise in early 2017 since any new supply would take at least three to six months to hit the market. In the meantime, memory content per device is growing, and NAND (negative-AND) SSD (solid state drive) adoption is growing at a faster rate than expected.
That means growth rates are reaching the 2014 peak. IC Insights expects the memory market to grow at a CAGR (compound annual growth rate) of 7.3% from 2016 to 2021. The semiconductor industry is expected to grow at a rate of 4.9%.
Article continues below advertisement
Memory market forecast
After rising more than 20.0% in both 2013 and 2014, the memory market fell in 2015 and 2016 as fewer PC (personal computer) sales caused an oversupply in the market, which in turn reduced prices. Memory ASP (average selling prices) fell 3.0% in 2015 and another 10.0% in 2016, according to IC Insights.
However, things have started to rebound, and IC Insights expects memory chip sales to rise 10.0% to a record high of $85.3 billion in 2017 and reach $110.0 billion in 2021. The research firm expects memory sales volume to rise at a CAGR of 5.6% and ASP to rise at a CAGR of 1.8% between 2016 and 2021. However, ASP is expected to fall in 2020 and then rise again in 2021.
Micron fears China's entry in the memory space
While the memory market outlook looks good, fears have been looming in the market as China (FXI), the largest consumer of memory chips, has been making efforts to build its own NAND. China consumes more than 50.0% of the global DRAM (dynamic random access memory) and NAND output.
The Chinese government plans to invest up to $161.0 billion over the next ten years on building the domestic semiconductor industry. If China succeeds in developing its own memory chips, it would create a massive oversupply in the market.
Other memory manufacturers such as Intel (INTC), Samsung (SSNLF), and Toshiba (TOSBF) would overcome the losses from some of their other more profitable electronics businesses. But it would be impossible for Micron to return to profit since it earns its complete revenue from memory chips and has a huge debt sitting on its balance sheet.
The only advantage for these companies is that China lacks memory IP (intellectual property), which means it would have to build memory from scratch, which could take years. The next 18 months are likely to be favorable for the memory market and for Micron.