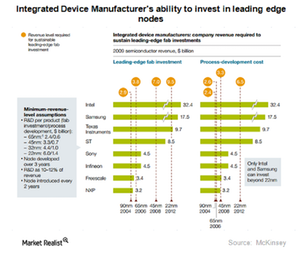 Execution of the Qualcomm-NXP Merger: A Complex Task
By Puja Tayal

Dec. 4 2020, Updated 10:53 a.m. ET
Qualcomm-NXP merger faces execution challenges
NXP Semiconductors (NXPI) will face a competitive threat from Infineon Technologies if its integration with Qualcomm (QCOM) doesn't happen effectively. However, there are many execution challenges in merging two large companies with different end customer bases, different business models, and different countries and cultures.
While Qualcomm has bought into the future with the NXP merger, its journey toward automotive growth may not be smooth.
Article continues below advertisement
Different sales process
Qualcomm operates in the smartphone market, where it deals with a few very large mobile OEMs (original equipment manufacturer) and securing design wins is easy and fast. On the other hand, NXP operates in the IoT (Internet of Things) market, which is fragmented, with a large number of small customers.
Moreover, the process of securing design wins in the automotive space is lengthy and cumbersome. NXP's engineering team works with automakers' engineering teams to integrate solutions into their car models.
Qualcomm has no experience handling automotive customers. Hence, it would use the expertise of NXP's sales team to sell its IoT and automotive products.
Different business model
Qualcomm has a fabless model in which it outsources manufacturing to third-party foundry Samsung (SSNLF). NXP is an integrated device manufacturer with seven fabrication facilities (or fabs) and seven packaging and testing facilities. However, these fabs are outdated and can't manufacture Qualcomm's advanced chips. If Qualcomm thinks of converting NXP's outdated fabs to advanced nodes, it will likely not yield good returns.
This difference in business models could have a negative impact on Qualcomm's gross margin, which could fall with the addition of factory overhead costs to the cost of goods sold. Moreover, Qualcomm specializes in R&D (research and development) and lacks experience in running fabs.
Article continues below advertisement
Reaching a middle ground, Qualcomm would initially use NXP's expertise in running the fabs to manufacture the latter's existing products and then gradually close extra fabs. There's a possibility that the combined company will go fabless in the long term. Meanwhile, NXP could use Qualcomm's R&D expertise to speed up its technological innovation in the automotive space.
Complexity in integration
While Qualcomm is the world's second-largest semiconductor company, NXP is the fifth largest. The merging of these two giants will likely bring integration challenges in terms of operations, financials, and work processes. To add to the complexity, the two companies come from different cultural backgrounds, making operations integration even more difficult.
Despite all the above challenges, NXP and Qualcomm are happy with their deal, as the automotive and IoT market is large enough to deliver growth to Intel and Qualcomm simultaneously. We'll look at the automotive industry's future growth potential in the next part of the series.