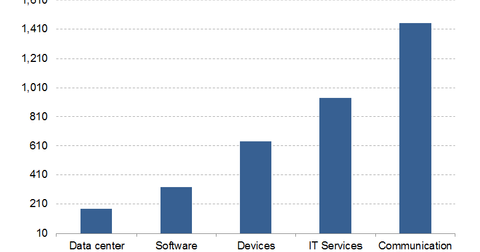 Can Qualcomm's Centriq 2400 Undo Intel's Server Chip Dominance?
By Ruchi Gupta

Dec. 16 2016, Published 3:28 p.m. ET
Qualcomm launches Centriq 2400
Qualcomm's Centriq 2400 joins the list of alternative server calculating engines seeking to wrestle the control of the server chip market from Intel's tight grip. Intel controls ~95% of the server chip market.
Article continues below advertisement
A more advanced ARM-based server chip
Centriq 2400 is seen as possibly the best ARM-based server chip ever produced. The processor is manufactured using the 10-nanometer process, which has made it possible for Qualcomm to pack 48 processor cores into the chip. Intel's existing server chips have a maximum of 24 cores.
The advanced design provides a glimmer of hope for Qualcomm's campaign to undo Intel's dominance in the server chip business. But ARM server processors have had a mixed record. Despite several ARM data center chips launching with hype in the recent years, they have largely failed to steal significant market share from Intel. Therefore, despite the advanced design of Centriq 2400, Qualcomm might face a daunting task convincing companies to shift from Intel's processors in their servers to its new ARM-based server chip.
While major brands like Facebook (FB) and Alphabet's (GOOGL) Google support new challenges to Intel's server market dominance, many customers are reluctant to ditch Intel servers. For many companies, dropping Intel servers would require overhauling their server systems, which could be costly and disruptive to operations.
Intense competition
Still, Qualcomm will have to contend with competition from not just Intel, but Advanced Micro Devices (AMD), International Business Machines (IBM), and others. The fight for the data center processor market has intensified lately because demand for such chips is expected to grow as cloud computing providers like Amazon (AMZN) and Microsoft (MSFT) expand their cloud infrastructure.