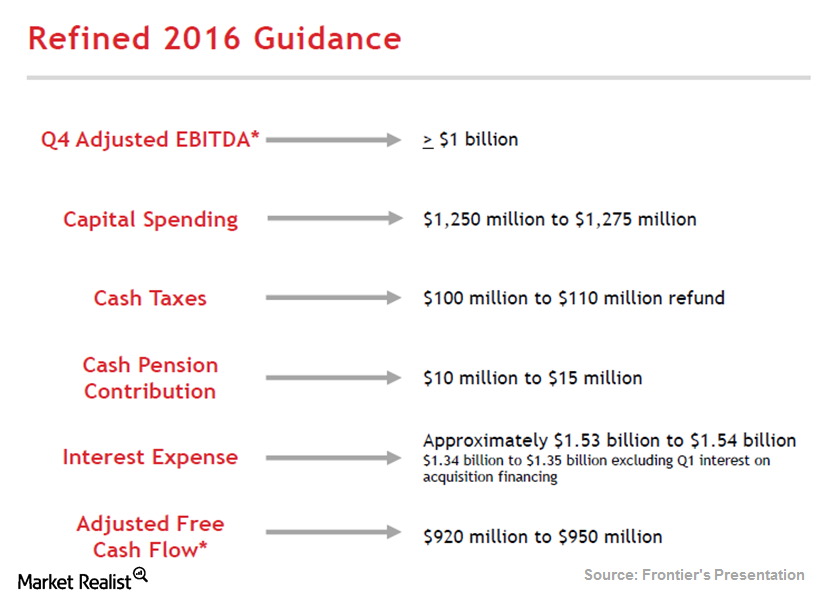 Analyzing Frontier's Outlook for 2016 and Beyond
Frontier's guidance for 2016
Frontier Communications (FTR) expects moderate improvement in its customer and revenue trends as well as continued focus on cost containment and synergy realizations. The company expects synergy realizations to come from its integration of AT&T's (T) and Verizon's (VZ) wireline businesses in the Connecticut and CTF (California, Texas, Florida) markets, respectively.
Frontier completed its acquisition of AT&T's and Verizon's wireline businesses in October 2014 and April 2016, respectively.
Article continues below advertisement
Frontier reported 3Q16 revenue of $2.5 billion, which was below expectations. Frontier's management acknowledged its disappointment with the results and said that it had plans to address the situation with several new initiatives. During the company's 3Q16 earnings conference call, its management gave guidance on its expected performance for 2016.
Wall Street expects Frontier's earnings to fall in 2016. Analysts expect the company's EPS (earnings per share) to be -$0.10 in 2016, compared to $0.13 in 2015.
Highlights from Frontier's outlook
Frontier expects its adjusted free cash flow to be in the range of $920 million–$950 million in 2016. The company expects its capital expenditure to be in the range of $1.25 billion–$1.28 billion, a fall from $1.28 billion–$1.33 billion. Its adjusted EBITDA (earnings before interest, tax, depreciation, and amortization) for 4Q16 is expected to be ~$1 billion.
Frontier also expects to receive a cash tax refund of between $100 million and $110 million in 2016, a rise from its earlier guidance of $10 million–$20 million. It also expects cash pension contributions of $10 million–$15 million. The company expects its interest expenses to be in the range of ~$1.53 billion–$1.54 billion, slightly lower than its previous guidance of $1.53 billion–$1.55 billion.
Looking ahead, Frontier expects its 2017 EBITDA to be higher than $4 billion and its capital expenditure to be in the range of $1.2 billion–$1.3 billion.