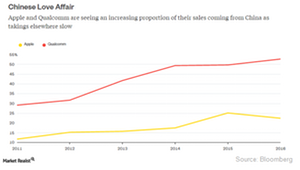 How Will Trump's Policies Impact Qualcomm?
By Puja Tayal

Nov. 18 2016, Updated 10:04 a.m. ET
Trump's policies and Qualcomm's health
In the previous part of this series, we discussed how the policies proposed by US President-elect Donald Trump are not looking good for Apple (AAPL). Another company that would face the heat of his policies is Qualcomm (QCOM), which earns 53% of its revenue from China (FXI), 16% from South Korea, and 13% from Taiwan.
Qualcomm earns more than 90% of its revenue from smartphones. It sells chips and licenses its technology to handset makers and OEMs (original equipment manufacturers) like Apple (AAPL) and Samsung (SSNLF), which are its key customers. Notably, it manufactures its chips in the foundries of Taiwan's TSMC (TSM) and South Korea's Samsung.
The global reach of Qualcomm spells trouble for the company, however, as Trump' trade policies may create tensed trade relations with China and South Korea.
Article continues below advertisement
Qualcomm's ties with China already stressed
In 2015, Qualcomm had antitrust issues with China, which it resolved by paying a fine of almost $1 billion. It had recently started to settle things in China by signing new licensing agreements and collecting catch-up payments from handset makers that did not pay royalty by under-reporting sales.
Qualcomm earns more than 80% of its profits from licensing, and a 45% tariff on Chinese imports could anger China, giving the nation a reason to avoid paying its licensing fee to Qualcomm. This could push the company into losses.
Trump's taxation policies
Trump may impose a lower tax on IP (intellectual property) earnings. It is not clear whether this may favor IP earnings from China and South Korea, where Qualcomm earns most of its licensing revenue.
Qualcomm is currently preparing for the semiconductor industry's biggest acquisition of NXP Semiconductors (NXPI) for $38 billion. The acquisition is unlikely to be impacted by the election of Trump as US President. However, Qualcomm's plans to expand in the 5G and IoT (Internet of Things) may be impacted positively by Trump's regulatory stance on encryption.
Support for the IoT revolution?
We should note, however, that the tech industry is currently at the cusp of the connected world driven by the 5G revolution, self-driving cars, deep learning, and VR (virtual reality). A Trump administration would likely have limited regulations on encryption and privacy, giving tech firms the freedom to innovate in the field of artificial intelligence.