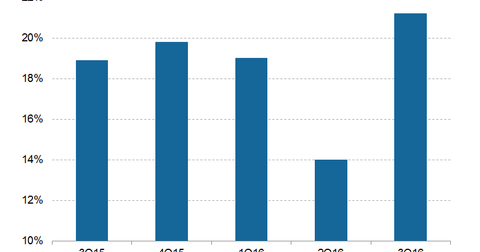 Why Verizon Believes Its Wireline Margins Will Expand
By Ambrish Shah

Nov. 18 2016, Published 2:36 p.m. ET
Verizon's wireline segment: EBITDA rose in 3Q16
In 3Q16, Sprint (S) and T-Mobile (TMUS) gained a chunk of postpaid phone subscribers. That had a negative impact on Verizon's (VZ) 3Q16 wireless segment's operating margin. The segment generated ~$1.7 billion of adjusted EBITDA (earnings before interest, tax, depreciation, and amortization), which was a rise of 10.1% on a YoY (year-over-year) basis.
Its wireline segment's adjusted EBITDA margin was 21.2% in 3Q16 compared to 18.9% a year ago. It was driven by a faster-than-expected recovery following the strike in 2Q16. The main reason for the rise was primarily growth in Verizon FiOS (Fiber Optic Service) and the cost management measures taken by Verizon.
Total revenues for Verizon FiOS rose 4.4% on a YoY basis in 3Q16. Verizon added 90,000 FiOS Internet subscribers and 36,000 FiOS video subscribers that quarter. FiOS Internet and video penetration were 40.4% and 34.5%, respectively.
Verizon expects the new union contract negotiated in the wake of the strike to generate total cash savings of $500.0 million from 2017–2019. As a result, Verizon is optimistic about its wireline segment's EBITDA margin growth in the coming years.
Article continues below advertisement
Wireline strike had a negative impact on Verizon
Although Verizon's wireline margins improved in 3Q16, the story was different in 2Q16. Verizon's wireline segment's adjusted EBITDA margin was 14.0% in 2Q16 compared to 18.7% in 2Q15, which was a pretty large fall. The main reason for the fall was the seven-week work stoppage from the strike in its wireline segment in 2Q16. The strike resulted in a $0.07 per share hit to its earnings.
The company suffered from a backlog of FiOS installations due to the strike. The work stoppage impacted FiOS connection growth, and the company lost 13,000 FiOS Internet subscribers and 41,000 FiOS video subscribers in 2Q16.
Despite this setback, FiOS revenues for Verizon rose 3.7% on a YoY basis in 2Q16. To boost its FiOS business further, Verizon acquired XO Communications earlier in 2016 for $1.8 billion. XO will provide Verizon with fiber-optic networks in some US markets.
In 2Q16, Verizon also divested its wireline operations in California, Florida, and Texas to Frontier Communications (FTR) for about $10.0 billion.
In the next part of this series, we'll look at Verizon's postpaid subscriber net additions.