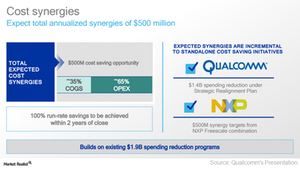 What Synergies Would the Qualcomm-NXP Merger Bring?
By Puja Tayal

Updated
The end objective of the Qualcomm-NXP deal
In the previous part of this series, we saw that the differences in Qualcomm (QCOM) and NXP Semiconductors (NXPI) would create integration challenges. However, these differences could also bring opportunities.
With the acquisition, Qualcomm aims to combine its SoC (system on chip) technology with NXP's sales channels to expand its addressable market to include automotive and IoT (Internet of Things). NXP's current solutions lack strong wireless connectivity. With Qualcomm's advanced connectivity solutions, NXP aims to offer a complete solution for mobile and automotive.
The end objective of this acquisition is to provide a comprehensive solution for the connected world.
Article continues below advertisement
Cost synergies
The acquisition would also bring cost synergies. As you can see in the above graphic, Qualcomm expects to achieve annual cost savings of $500.0 million over two years from the close of the transaction in late 2017.
A major portion of this cost synergy would come from operating expenses. Qualcomm would use NXP's strong sales channel to sell its products in the IoT and automotive spaces. NXP would use Qualcomm's strong research background to innovate comprehensive embedded and automotive solutions. This would avoid duplication of work and reduce expenses.
The combined company would have a stronger bargaining power with suppliers reducing COGS (cost of goods sold). However, the addition of NXP's manufacturing facilities would reduce Qualcomm's gross margin by some percentage points.
These cost synergies would be in addition to Qualcomm's current restructuring efforts that would bring $1.4 billion in cost savings.
Revenue synergies
The acquisition would also bring cross-selling opportunities for the combined company. Recently, Qualcomm lost some orders from Apple (AAPL) to Intel (INTC). NXP supplies NFC (near-field communications) chips for Apple's secure payment platform. The acquisition could bring back the lost business from Apple and increase Qualcomm's bargaining power.
Qualcomm is at the core of the 5G (fifth-generation) revolution and is expected to launch the industry's first 5G modem Snapdragon X50 in the first half of 2018. NXP could become the first company to offer 5G connectivity solutions in automotive and IoT.
NXP invented NFC chips, which are now gaining traction in secure payments and identification. Qualcomm's expertise in licensing could help NXP earn a royalty on NFC technology.
While Qualcomm has a technology advantage in mobile, NXP competes strongly with STMicroelectronics, Infineon Technologies, Nvidia, and Texas Instruments in the automotive space.
Next, let's explore how the competitive environment would look for the combined company.