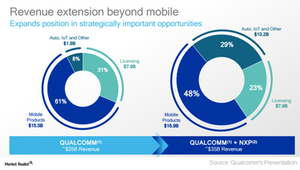 Qualcomm Resorts to Big Acquisition to Grow Its Adjacent Business
By Puja Tayal

Nov. 10 2016, Updated 10:04 a.m. ET
Qualcomm's adjacent business
Qualcomm (QCOM), a leader in the mobile semiconductor market, is seeing the first signs of the current slowdown in the smartphone market. Qualcomm's annual revenue fell from $26.5 billion in fiscal 2014 to $25.3 billion in fiscal 2015 to $23.5 billion in fiscal 2016. Hence, it started diversifying into the adjacent markets of automotive, IoT (Internet of Things), and data center.
Notably, Qualcomm completed its $2.2 billion acquisition of Internet of Everything and automotive solutions provider CSR in 2015. This acquisition increased the adjacent segment's size from 2% to 8%.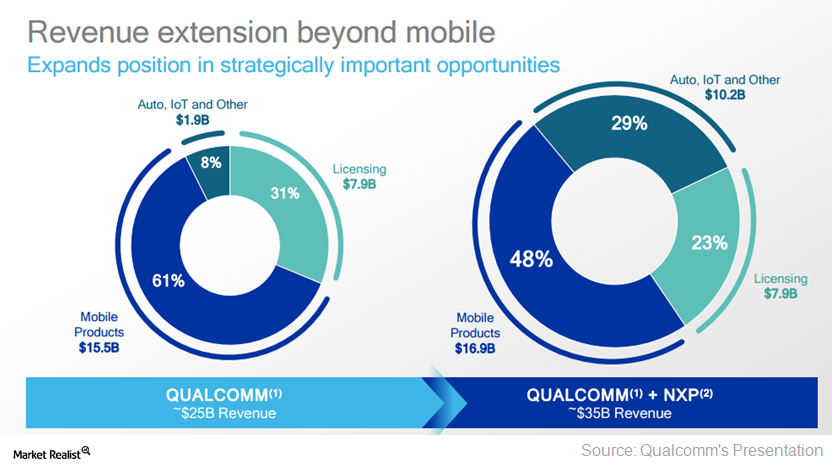 Article continues below advertisement
Qualcomm's IoT platforms
In fiscal 2016, Qualcomm's revenue from adjacent market rose over 40% YoY (year-over-year) primarily driven by strong growth in the CSR business. This growth also helped Qualcomm reduce the impact of the discontinuation of Samsung's (SSNLF) Note 7.
Qualcomm now offers more than 25 platforms for IoT products, including Snapdragon VR 820, Snapdragon Wear for wearables, and Snapdragon Flight for drones.
Qualcomm's automotive platforms
In the automotive space, Qualcomm offers telematics, connectivity, and infotainment solutions. It is a leader in car telematics solutions as more and more cars transition to 4G LTE (long-term evolution) vehicle solutions. Its Snapdragon processor for cars should feature in Audi's 2017 vehicles.
Realizing the urgency of expanding in adjacent markets, Qualcomm recently agreed to acquire the world's largest automotive semiconductor company, NXP Semiconductors (NXPI), for $38 billion. The acquisition will likely increase the size of Qualcomm's adjacent business fivefold to $10.2 billion.
Recently, Qualcomm joined the Avanti consortium, which aims to set licensing standards for IoT devices. Initially, the consortium will focus on licensing 2G, 3G, and 4G technologies for connected cars and smart meters, and then it plans to expand this to other devices. This plan indicates that Qualcomm may also license its technology and that of NXP to OEMs (original equipment manufacturers).
In the next part, we'll discuss how Qualcomm's licensing business has performed as well as what factors have been driving growth in this segment.