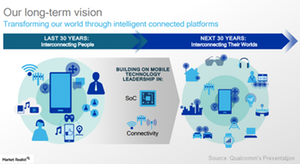 Qualcomm- NXP Deal Marks the Inflection Point of IoT
By Puja Tayal

Nov. 3 2016, Updated 12:37 p.m. ET
IoT growth drives M&A deals in the semiconductor industry
All the hype about IoT (Internet of Things) being the next big thing is coming true. Companies such as Nvidia (NVDA) and Intel (INTC) have been shifting their focuses toward IoT, especially in the automotive sector. But 2016 witnessed two of the biggest M&A (merger and acquisition) deals in the history of the semiconductor industry. Both of them focused on IoT.
In July 2016, SoftBank agreed to acquire ARM Holdings (ARMH) for $32.0 billion, a cross-border deal with complementary product portfolios. In October 2016, Qualcomm (QCOM) agreed to acquire Netherlands-based NXP Semiconductors (NXPI) for $38.0 billion, excluding debt. It's another cross-border deal with complementary product portfolios. These deals indicate that IoT is at the inflection point, and the 5G (fifth-generation) revolution isn't far away.
Article continues below advertisement
The Qualcomm-NXP deal
The Qualcomm-NXP deal is the largest in Europe and the largest in the semiconductor industry. The acquisition would create the world's third-largest semiconductor company after Intel and Samsung and the largest integrated semiconductor solutions provider in the world.
Deal highlights
As part of the deal, Qualcomm will acquire all shares of NXP, issued and outstanding, for $110 per share in cash. That represents a premium of 34.0% from the NXP share price before the merger rumor spread on September 29, 2016. This equates to an enterprise value of $47.0 billion, which includes NXP's $8.7 billion debt.
The deal has already been approved by shareholders of both companies. Now the deal will be reviewed by regulators in nine jurisdictions. It's expected to be completed by the end of 2017 after all the necessary approvals.
Article continues below advertisement
Qualcomm will fund the all-cash deal with its offshore cash and a new debt of $11.0 billion. With this, Qualcomm aims to make the deal tax-efficient while maintaining liquidity of more than $8.0 billion. The company said it has designed the deal structure with an aim to provide "a strong foundation for long-term capital returns to stockholders."
Deal synergies
The NXP acquisition would immediately increase Qualcomm's earnings by 30.0% and bring in $500.0 million in annual cost synergies within two years from the close of the transaction. Analysts believe that the combined company could deliver better returns than what the two companies could deliver separately.
In this series, we'll take a look at the Qualcomm-NXP deal and analyze all financial, strategic, and macro aspects that define the opportunities and challenges the acquisition would provide.