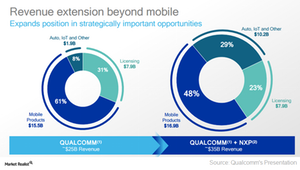 NXP Integration, a Challenge for Qualcomm
By Puja Tayal

Nov. 4 2016, Updated 10:04 a.m. ET
Integration of Qualcomm-NXP
In the previous part of this series, we saw that the company that would result from Qualcomm's (QCOM) acquisition of NXP Semiconductors (NXPI) would be a market leader in many areas. However, the success of any merger depends on its effective integration. A merger of this size with differences in business models, cultures, and management styles would pose several integration challenges.
Adding to the complexity, Qualcomm would have to integrate both NXP and Freescale since NXP hasn't completed the Freescale integration yet. Let's look at these integration issues and how Qualcomm plans to address them.
Article continues below advertisement
Different market segments
The first challenge is integrating a business in which Qualcomm has little experience. As you can see in the above graph, the NXP acquisition would increase Qualcomm's automotive and IoT (Internet of Things) segment fivefold to $10.2 billion.
While mobile is a concentrated market with few very large players, IoT is a fragmented market. NXP thus has a larger sales team. Qualcomm plans to use the expertise of NXP's sales team to sell its IoT products.
Different business model
Qualcomm has a fabless model in which it outsources manufacturing to third-party foundry Samsung (SSNLF). NXP, however, has seven fabrication facilities (or fabs) spread across five countries and seven packaging and testing facilities. But these fabs are outdated and can't manufacture Qualcomm's advanced chips.
Even NXP outsources some of its manufacturing to third-party foundries. Integrating these two models could be a challenge. Qualcomm initially plans to get advice from NXP executives on how to run the fabs. The combined company would manufacture existing NXP products in its fabs and close extra fabs. While this strategy may change with time, one thing is sure: Qualcomm won't spend capital modernizing the fabs.
Different profit profiles
The two companies have different profit profiles. Qualcomm spends a large amount on research and development and earns most of its profits from licensing. NXP, on the other hand, spends a good sum on maintaining fabs and earns profits by selling chips.
Although Qualcomm's sales are falling, it has a high gross margin of more than 60.0%. The addition of NXP would pull down the combined company's gross margin. The integration would give NXP access to Qualcomm's research, and the combined efforts of the two research teams would enhance product development and reduce costs.
This is just the initial plan for integration. A lot could change, depending on the circumstances between now and the end of 2017.
In the next part, we'll take a look at what synergies the NXP acquisition would bring.