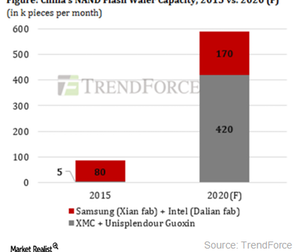 Inside Micron's Real Plan for NAND
By Puja Tayal

Dec. 2 2016, Updated 10:04 a.m. ET
Micron's investments in NAND
Given the expected supply shortage in the NAND market, Micron Technology (MU) has accelerated its 3D NAND ramp up and expects to reduce its NAND cost per bit by 20%–25% in fiscal 2017. This cost includes the additional cost of manufacturing SSDs (solid state drives), eMCPs (embedded multi-chip packages), and managed NAND solutions.
In fiscal 2017, the company plans to complete its conversion to Generation 1 3D NAND and start production of Generation 2 3D NAND. Micron plans to bring to the market its 3D XPoint technology, which it is developing in collaboration with Intel (INTC) under the QuantX brand.
Article continues below advertisement
China invests in memory
Micron is not the only company investing in the memory production. China (MCHI) has been looking to become self-sufficient in the semiconductor manufacturing space and has formed three domestic memory manufacturers.
China's state-owned company, Tsinghua Unigroup, acquired a majority stake in XMC (Wuhan Xinxin Semiconductor Manufacturing) and plans to invest $24 billion over the next five years on a memory plant. XMC is expected to use Spansion's technology to manufacture 3D NAND chips.
Rumors over possible deal between Micron and China
Meanwhile, there have been rumors that Tsinghua Unigroup approached Micron in July 2016 for a possible licensing deal for 3D NAND and DRAM technology. Micron rejected the proposal and implemented a policy that prevented an individual or entity from acquiring a 5% stake in the company. After that, however, media reports stated that XMC had reached out to Toshiba (TOSBF), Samsung (SSNLF), and SK Hynix for possible licensing deals.
XMC denied rumors that it was in negotiation with Micron over any licensing deal.
What if Micron and China strike a deal?
But if XMC approached Micron, and the latter agreed, Micron could provide its memory technology to China only through an Inotera-like joint venture wherein XMC would only produce memory for Micron, according to Instinet analyst Romit Shah.
Shah also stated that China has the volume and capital to manufacture memory, but it lacks IP (intellectual property), technology and brand. Micron has IP, technology, and brand but lacks the volume to compete with Samsung and Intel.
If Micron collaborates with China, the company would become a leader in the memory space, which would hit the NAND revenues of Samsung and Toshiba-Western Digital. But a deal between Micron and China is unlikely, given national security concerns.
In the next and final part, we'll look at Micron's financial position for carrying out long-term investments.