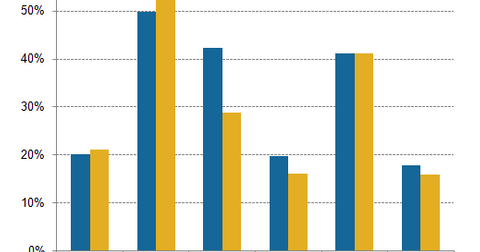 Trump's Impending Presidency Brings Chills to Tech Stocks
By Puja Tayal

Updated
Trump's key policies not welcomed by tech stocks
The outcome of the 2016 US Presidential election has not been welcomed by the global technology sector. President-elect Donald Trump has been a big critic of several technology companies, and the states that became the biggest wins for him are not exactly US technology hubs.
While Trump has not yet documented his vision and policies for the tech sector, some of the key policies he used to shore up the support he needed to win the election could hurt the development of the technology industry. Trump claimed that he aims to bring industrial jobs back to the US by restricting immigration and increasing barriers to free trade with countries with questionable trade practices, particularly China (MCHI).
In this series, we'll look at Trump's vision of elevating the US economy and the possible impact his actions could have on the semiconductor industry.
Article continues below advertisement
Trump attacks unfair trade practices
Trump aims to label nations that have a significant current account surplus and a bilateral trade surplus with the US as "currency manipulators." Such a surplus occurs when the other nation's exports to the US are more than their imports from the US, and so these nations could include China, Japan, Korea, Taiwan, and Germany.
Trump aims to restrict trade with such countries until they agree on a win-win trade agreement. But these countries could fight back by imposing sanctions on American goods. All this would have a negative impact on the semiconductor industry.
Semiconductor industry to feel the heat
China is the key market for the global semiconductor industry. China consumes 29% of the global semiconductor production, according to World Semiconductor Statistics. Apple (AAPL) and Qualcomm (QCOM) earn 22.5% and 50%, respectively, of their revenues from China. Applied Materials (AMAT), the world's largest semiconductor equipment supplier, has stated China as its fastest-growing market.
A restriction on trade with China would have a severe impact on the earnings and growth of the above companies. In order to encourage domestic production, Trump plans to impose taxes on companies that manufacture goods overseas and give subsidies to companies that set up plants in the US.
This may impact companies like Intel (INTC) and Micron Technology (MU), which have recently spent billions of dollars to set up advanced memory plants in China. The loss arising from this may not be able to offset the savings brought by subsidies for domestic production.
In the next part, we'll look at the possibilities of the US entering a so-called trade war with China.