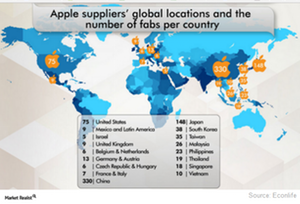 Why Trump's Election Won't Be Good for Apple
By Puja Tayal

Updated
Trump's trade policies and Apple
In the previous parts of the series, we discussed how the new trade and taxation policies proposed by US President-elect Donald Trump may not fare well for the US technology sector. Of course, the first company to be impacted by Trump's policies would be Apple (AAPL).
Apple manufactures A10 chips at Taiwan's TSMC (TSM), buys components from US-based Skyworks (SWKS), Qualcomm (QCOM), Intel (INTC), Texas Instruments (TXN), South Korea's Samsung (SSNLF), and Europe's NXP Semiconductors (NXPI), and assembles the phones at China's Foxconn. Most of these suppliers have built their plants in China to reduce manufacturing costs through cheap labor and close proximity to assemblies.
The imposition of a heavier taxes on American companies manufacturing overseas would force the above companies to stop building manufacturing capacity in China. And if companies shifted to another low-cost country like India or Mexico, the tax would still apply.
Article continues below advertisement
If these companies brought production back to the US, on the other hand, their costs of production would increase due to high labor costs. This, in turn, would boost the prices of products, making companies like Apple less competitive with other global competitors. But if Apple decides to continue production in China, Trump's proposed 45% tariff on Chinese imports would increase the price of products as well, discouraging consumers from buying iPhones.
Apple's revenues from China and US under stress
With the slowdown in global smartphone sales and a shift in consumer demand toward lower-cost Chinese smartphones, Apple's earnings have already come under stress. It's thus very important for Apple to have good relations with China. If Trump starts a so-called trade war with China, the latter could impose high tariffs on Apple's iPhones, impacting its sales in China.
In fiscal 4Q16, Apple earned 62% of its revenue from the Americas and Greater China. A trade war would stress these revenues and thereby impact suppliers such as Qorvo (QRVO), TSMC, and Cirrus Logic (CRUS), which depend heavily on Apple for their revenue.
Other policies and issues
Meanwhile, Apple's US workforce is 19% Asian. Trump's plan to restrict immigration could deprive Apple of the skilled immigrant talent it needs and, ultimately, slow its development efforts.
Remember, during his election campaign, Trump asked Americans to boycott Apple products because the company refused to give consumer data to federal agents who were investigating the 2015 mass shooting in San Bernadino, California.
That said—amid all this gloom and doom—Trump's plan to reduce the repatriation tax from 35% to 10% could come as good news for Apple, which has more than $216 billion in cash overseas.
Now let's look at the potential impact of Trump's policies on Qualcomm.