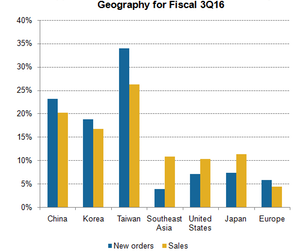 Will Trump's Policies Be Good or Bad for AMAT?
By Puja Tayal

Updated
China's dependence on the US for semiconductor equipment
In the previous part of the series, we discussed how US President-elect Donald Trump's policies may have a negative impact on semiconductor and technology companies that rely largely on China and South Korea for revenue. One such company is Applied Materials (AMAT), the world's largest SME (semiconductor manufacturing equipment) supplier.
According to 2015 trade statistics, of the $482 billion in US exports to China, 28% was for electrical machinery. China depends largely on the US for the advanced equipment it uses to manufacture chips. China then assembles these chips in consumer electronics and exports them to the US.

Article continues below advertisement
China is currently investing heavily to become self-sufficient in semiconductor manufacturing. Over the next two years, it would build ten new foundries and facilities. This move by China made it AMAT's fastest-growing market. In fiscal 3Q16, new orders and sales from China accounted for 20% of AMAT's orders and sales.
Trump's trade policies to impact AMAT's earnings
Trump's 45% import tariff may encourage China to retaliate by imposing tariffs on its imports from the US. This may significantly impact AMAT's earnings from China. However, China's huge dependence on the US for advanced equipment may discourage it from imposing any tariffs, and this may work in AMAT's favor.
Moreover, Taiwan and South Korea are also on Trump's radar, and he may take some strict actions to change the trading tone with these countries. Taiwan is home to the world's largest foundry, TSMC (TSM), and South Korea is home to the world's largest memory manufacturer, Samsung (SSNLF).
Trump's proposed actions would thus impact AMAT's earnings as China, South Korea, and Taiwan together account for 76% of the company's new orders and 63% of sales.
Trump's efforts to increase US production
On the flip side, if Trump succeeds in increasing semiconductor manufacturing in the US, AMAT's domestic orders and sales would increase. But it may not be able to completely offset the impact of lost orders from Taiwan, South Korea, and China.
So while Trump's policies are being criticized by most tech firms, some companies actually welcome his policies. We'll take a closer look at these companies in the next part of the series.