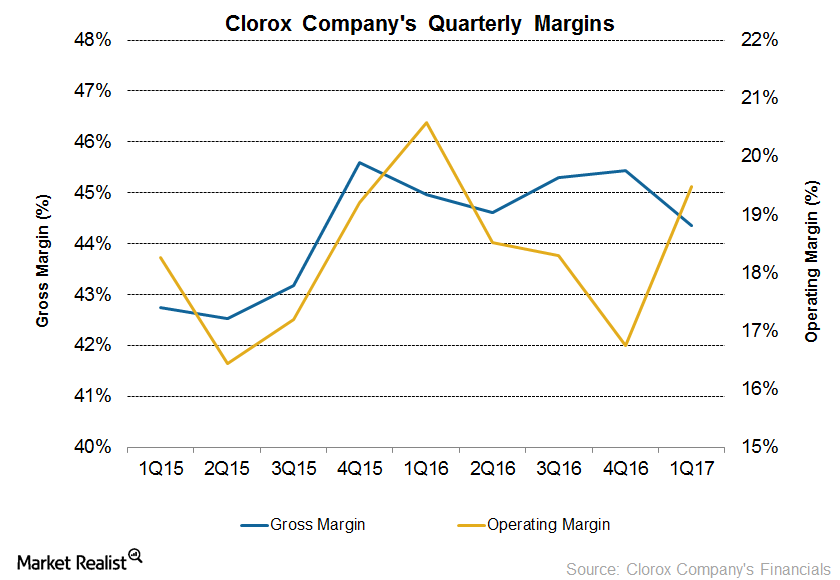 Why Did Clorox's Margins Fall in Fiscal 1Q17?
By Gabriel Kane

Dec. 4 2020, Updated 10:53 a.m. ET
1Q17 gross margin down
Clorox (CLX) reported a 60-basis-point fall in its gross margin in fiscal 1Q17, which ended on September 30, 2016. The company's gross profit margin fell to 44.4% in 1Q17 from 45.0% in 1Q16. This fall in gross margin was due to inflationary pressure on the manufacturing and logistics costs, timing of strategic investments, unfavorable product mix, and the negative impact of foreign exchange. However, this was offset by cost savings, favorable commodity costs, and higher pricing in international markets.
Article continues below advertisement
Why operating margin fell
Clorox's operating margin fell by 110 basis points to 19.5% in fiscal 1Q17. This fall in operating margin was due to a rise in selling and administrative (or SG&A) expense and lower gross margin. The selling and administrative expense as a percentage of sales rose by 50 basis points to 13.9% due to the acquisition of RenewLife and a rise in performance-based compensation costs. The advertising and sales promotion expenses as a percentage of sales were flat in fiscal 1Q17.
The gross margin of peer Kimberly-Clark (KMB) rose 70 basis points to 36.4% in 3Q16, which ended on September 30, 2016. This improvement was driven by the company's FORCE (Focused On Reducing Costs Everywhere) cost savings program. Kimberly-Clark's (KMB) 3Q16 operating margin rose by 170 basis points to 18.2%.
Colgate-Palmolive (CL) reported a 140-basis-point rise in its gross margin. This significant improvement in the company's 3Q16 gross margin was due to its funding-the-growth initiatives, higher pricing, and the 2012 Restructuring Program.
Clorox Company and Kimberly-Clark constitute 0.90% and 2.4%, respectively, of the Vanguard Consumer Staples ETF (VDC).
Future expectations
Clorox expects gross margin to fall in fiscal 2017, which reflects the impact of unfavorable mix and the unfavorable change in commodity costs. In 1Q17, the company benefited from lower commodity costs.
The company expects the EBIT (earnings before interest and taxes) margin to expand by 25 basis points to 50 points in fiscal 2017. In its 1Q17 earnings call, Stephen Robb, Clorox's chief financial officer stated that this EBIT projection reflects lower SG&A expenses driven by productivity initiatives and more normalized levels of performance-based incentive compensation costs.
We'll discuss analyst recommendations for Clorox Company's stock in the next part of this series.