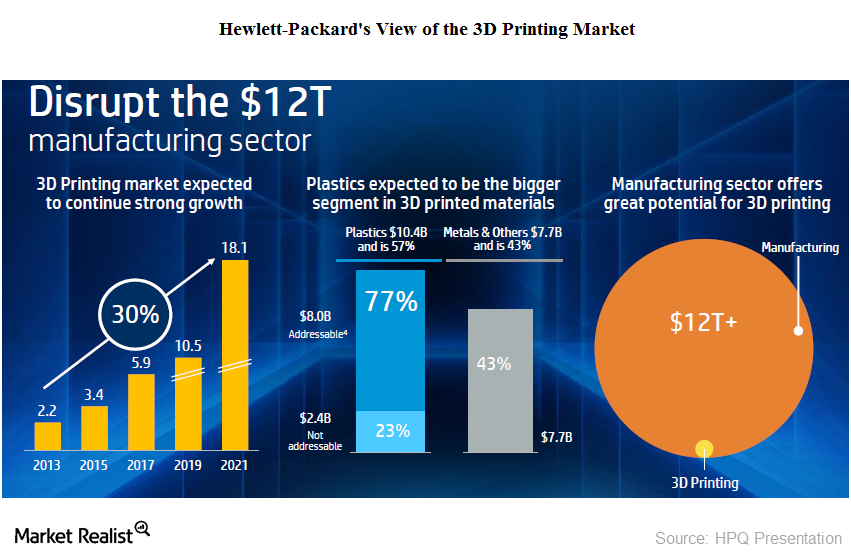 Can HP Increase Its Penetration in the 3D Printing Segment?
By Adam Rogers

Nov. 20 2020, Updated 3:18 p.m. ET
Key capabilities
HP Inc. (HPQ) has been a market leader in the traditional printing business for the past 30 years. The firm is now eyeing the lucrative and high-growth 3D Printing market. In June 2016, HP delivered the world's first production-ready commercial 3D printing system. Its management stated that the new HP Jet Fusion 3D Printing Solution produces superior physical parts at 50% of the cost as compared to current 3D printing systems.
HP had further stated that it was building a whole new partner channel for 3D printing and plans to continue to grow its ecosystem of technology partners in industries such as automotive, medical, aerospace, and consumer goods.
Article continues below advertisement
Market opportunity of $18 billion
As the chart above shows, HP expects the 3D Printing market to grow at a CAGR (compound annual growth rate) of 30% as of calendar 2021. The firm also believes the plastics space will account for over $10 billion of the market. According to HP, it will be able to address approximately 77% of the 3D plastic market, which will drive revenue significantly over the next few years.
HP stated that it is working with a number of strategic partners, including Nike (NKE), BMW, Autodesk (ADSK), Jabil (JBL), Johnson & Johnson (JNJ), and Siemens (SIEGY). HPQ also launched demo units and prototypes for the partners.
In June 2016, HP announced that it had acquired German-based (FGM) David 3D Solutions. The acquisition has provided HPQ with the technology to continue to evolve "Sprout 3D and advance its market opportunities in both Immersive Computing and the $7 billion 3D scanning market."
HPQ wants to build an end-to-end 3D solutions ecosystem, and it believes that its acquisition of David will bring it one step closer to its goal.