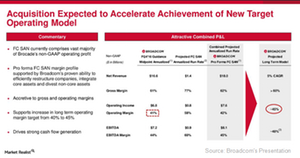 Why Broadcom Chose Brocade as Its Next Acquisition Target
By Puja Tayal

Updated
Broadcom's next acquisition
In the previous part of the series, we saw that Broadcom's (AVGO) next acquisition after the Avago-Broadcom merger came faster than expected. The $37 billion merger left the combined company with very high net debt of $22 billion. With such high leverage, the company only has the flexibility to take up smaller acquisitions.
Hence, when analysts touted Xilinx (XLNX), Maxim Integrated (MXIM), and NXP Semiconductors (NXPI) as potential acquisition targets, it didn't sit well with Broadcom's balance sheet. Broadcom then selected Brocade Communications Systems (BRCD), as it fits well with the former's business and isn't too heavy on its balance sheet. Let's look at the deal in detail.
Article continues below advertisement
Fundamentals of the acquisition
Broadcom agreed to acquire Brocade Communications for a cash consideration of $5.5 billion and also agreed to take up the latter's $400 million in debt, bringing the total transaction value to $5.9 billion. Broadcom would pay $12.75 per share for Brocade, 47% higher than Brocade's share price a day before the deal was announced.
A day after the deal was announced, Brocade's stock rose 10%, and Broadcom's stock rose 1%. The deal was approved by the boards of both companies. The deal is subject to regulatory approvals and is likely to close by fiscal 2H17. Broadcom plans to fund the acquisition by using its $2 billion in cash reserves and raising new debt.
Why Brocade?
Brocade manufactures fiber channel storage area network switches that connect storage systems to data center computers and complement Broadcom's networking and storage portfolio.
Brocade meets all the criteria of an ideal acquisition target for Broadcom. Brocade has few competitors, stable revenue, high gross margins, similar end markets, and complementary products, among other things.
Brocade's fiber channel business is falling as fiber is being replaced by Ethernet. Despite this, Broadcom is buying Brocade in order to take advantage of the latter's strong cash flow and revenue.
Brocade's acquisition accretive to Broadcom's earnings
In its fiscal 2015, Brocade reported a gross margin of 67.5% on revenue of $2.3 billion. Despite its strong gross margins, its operating margin was just 22%. Brocade's acquisition should increase Broadcom's earnings by 5%–7%, according to RBC Capital Markets analyst Amit Daryanani.
Brocade will add ~$900 million to Broadcom's non-GAAP (generally accepted accounting principles) EBITDA (earnings before interest, tax, depreciation, and amortization), which should increase the combined company's free cash flow if the debt is structured well.
Apart from cash flow, the Brocade acquisition could bring more synergies for Broadcom. We'll look into them in the next part of the series.