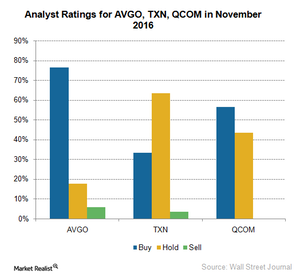 What Are Analysts' Expectations for AVGO's Stock?
By Puja Tayal

Nov. 24 2016, Updated 11:04 a.m. ET
AVGO's stock has a bright future
In this series, we've seen that Broadcom (AVGO) is back in the acquisition game and is slowly reducing its dependence on Apple (AAPL) by reducing its exposure to the wireless space. The fiscal fourth quarter is a seasonally strong quarter for Broadcom, Qualcomm (QCOM), and Texas Instruments (TXN), driven by strong orders from Apple.
Apart from seasonality, Broadcom is slowly realizing that its merger synergies and future growth opportunities seem bright. Analysts see a strong upside potential for AVGO's stock. They expect its price to cross the $200 mark.
Article continues below advertisement
Stock price movement
Since Avago integrated Broadcom in February 2016, its stock has risen 23.7%, lower than TXN's 34% rise and QCOM's 49% rise between February and October 2016. However, the three stocks' performances were different in fiscal 4Q16.
QCOM's stock reported the largest rise of 11% between August and October 2016, driven by its announcement that it would acquire NXP Semiconductors (NXPI). AVGO came second with a 10% rise, driven by strong orders from Apple. This growth excluded investors' reactions to its Brocade acquisition, which was announced on November 2, 2016. TXN's stock rose just 1%, as it made no major announcements during the period. Many analysts are lobbying TXN to bid for rival Maxim Integrated (MXIM).
Analysts' ratings
Wall Street analysts are optimistic about Broadcom and have given the stock a consensus "buy" rating. Analysts believe AVGO has strong upside potential and have, therefore, kept its average price target at $203. The stock is currently hovering at a discount of 17% to its target.
AVGO may achieve its target if the following three events take place:
Apple reports better-than-expected iPhone 7 sales in its December 2016 quarter.
AVGO's new Tomahawk II technology boosts revenue in its Wired segment.
The new US president-elect, Donald Trump, decides not to go ahead with his proposed 45% tariff on Chinese imports.
QCOM has an average price target of $75, and it's currently trading at a discount of 11%. The stock may reach this target if Qualcomm's Snapdragon chips significantly increase chipset revenue from the smartphone and adjacent markets.
TXN has an average price target of $73, and it's currently trading at a discount of 2% to this price. The stock may reach this target or even exceed it if it announces an acquisition, most likely of MXIM.
These stocks have strong growth prospects, but they're currently trading a little lower due to Trump's unclear technology policies. If Trump manages to secure good trade terms with China and improves industrialization in the United States, the above-mentioned semiconductor stocks could see new highs.