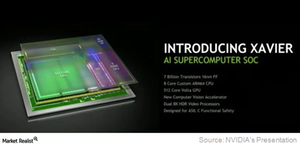 Nvidia Set to Update Its Product Portfolio in 2017
By Puja Tayal

Nov. 1 2016, Updated 10:04 a.m. ET
GTX 1080 Ti for gaming
In the previous part of this series, we saw that Nvidia (NVDA) is moving quickly to develop its next-generation technology. It is also set to launch new products and announce important updates in its Gaming, Automotive, Deep Learning, and Virtual Reality segments.
Media reports suggest that Nvidia could launch its GTX 1080 Ti at CES (Consumer Electronics Show) 2017. The GTX 1080 Ti would compete with AMD's upcoming Vega 10 GPUs for high-end gamers and would be priced between $630–$1,200.
Media reports also suggest that Advanced Micro Devices (AMD) could launch its Vega and Zen processors at CES 2017. AMD and Nvidia's price war in 2016 could convert into a technology war in 2017.
Article continues below advertisement
Xavier GPU for automotive
Apart from competing with AMD, Nvidia is making new strides in the automotive space. At the GPU Technology Conference Europe, Nvidia unveiled its new power-efficient automotive SoC (system-on-a-chip) Xavier, which would likely replace its Drive PX 2 platform in the future.
Built on the 16nm (nanometer) node, Xavier has 7 billion transistors on one chip, performs 20 trillion operations per second, and supports the dual 8K HDR (high-dynamic-range) video recording—all with just 20 watts of power. The SoC would feature an 8-core ARM 64-based processor and a next generation 512 core Nvidia GPU. Such high computing power would allow cars to identify images, analyze on-road situations, and act on a real-time basis.
Xavier was designed according to the ISO 26262 functional safety specifications meant for automotive electronics. Nvidia stated that Xavier would house its next-generation Volta GPU. The company would ship the first samples of Xavier to carmakers and OEMs (original equipment manufacturers) for testing in fiscal 4Q18.
Future of self-driving cars
The advent of self-driving cars would create a new market of TaaS (Transportation-as-a-Service), wherein autonomous cars would either be owned by large organizations that could rent them, or they may be owned by individuals who will run them as a Uber model.
NXP Semiconductors (NXPI) is also gearing up to tap the autonomous car market. The company developed the Blue Box platform and is currently testing it with several automakers. NXP's strong position in the automotive market has attracted Qualcomm (QCOM) to make an acquisition bid, according to a Bloomberg report.
Meanwhile, Nvidia is unlikely to make any acquisitions despite a strong balance sheet. Next, we'll look at Nvidia's balance sheet.