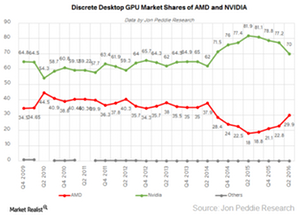 AMD's Growth Strategy Starts Showing Returns
By Puja Tayal

Updated
AMD's fiscal 3Q16 earnings break the cycle of negative earnings
Advanced Micro Devices (AMD) made a comeback in the GPU (graphics processing units) market with its Polaris GPUs, which was reflected in its fiscal 3Q16 earnings. The company reported double-digit revenue growth for the first time in more than two years. It also reported its first non-GAAP (generally accepted accounting principles) net profit in six quarters. The growth was driven by strong demand for semi-custom chips and its revolutionary Polaris GPU.
The company plans to maintain its growth momentum with its timely release of competitive GPUs and CPUs (central processing units). Let's see how the company plans to manage its technology roadmap.
Article continues below advertisement
AMD's growth strategy
In 2014 and 2015, AMD's revenue took a downward path as it lost discrete GPU market share to Nvidia (NVDA) and PC processor market share to Intel (INTC). In 2016, AMD aims to regain the market share it lost to Nvidia by targeting mainstream customers. It has so far succeeded in increasing its share from 21% in 4Q15 to 30% in 2Q16, according to Jon Peddie Research.
In 2017, AMD plans to target high-end customers with its Vega GPUs and Zen CPUs, which would compete with Nvidia and Intel products.
Financing the technology roadmap
The key obstacle AMD faced in developing new products was a lack of financial flexibility. Huge debt burden and declining cash flows forced the company to reduce its R&D (research and development) spending, thus putting it behind its cash-rich competitors Nvidia and Intel.
In fiscal 3Q16, AMD strengthened its balance sheet by restructuring debt and raising capital through equity. This helped the company reduce its debt and interest burden and gave it financial flexibility to spend on R&D.
Manufacturing new technology
AMD has made the sixth amendment to its WSA (Wafer Supply Agreement) with Global Foundries. Under the amendment, AMD would manufacture a certain amount of chips every quarter at Global Foundries and source extra chips from other foundries. This would give AMD flexibility and help it manufacture new products in a timely manner.
In the past six months, AMD ramped up five new FinFET (Fin Field Effect Transistor) chips using two foundries Samsung (SSNLF) and Global Foundries. The company may decide on which foundry to use for which product based on product complexity, manufacturing cost, and timing of the launch.
AMD's future growth prospects were received well by investors, and its stock rose 7.6% between October 20 and October 25, 2016. In this series, we'll look at AMD's strengths and weaknesses and how they could impact its future earnings.