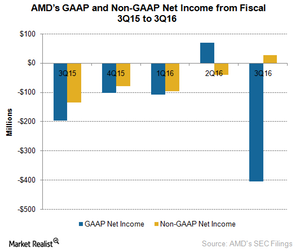 AMD's Earnings Hurt by Amendments to a Supply Agreement
By Puja Tayal

Nov. 1 2016, Updated 10:05 a.m. ET
What does the amended WSA mean to AMD?
In the previous part of the series, we saw that Advanced Micro Devices (AMD) reported profit on a non-GAAP (generally accepted accounting principles) basis in fiscal 3Q16. However, on a GAAP basis, the company's losses widened due to a $340 million charge due to an amendment to the WSA (wafer supply agreement) with Global Foundries.
Under the new amendment, AMD would purchase a certain amount of silicon wafers for its CPUs (central processing units) and GPUs (graphics processing units) from Global Foundries. However, the quantity and the price weren't disclosed. This is the sixth amendment to the WSA, making it an annual process. However, this amendment is for a five-year term.
Article continues below advertisement
The WSA amendment is important for AMD's Zen architecture. AMD can either choose to manufacture Zen chips with Global Foundries or give it to another pure play foundry such as Samsung (SSNLF) or TSMC (TSM). Rival Nvidia (NVDA) is already rumored to have shifted foundry from TSMC to Samsung for its next-generation Volta GPU.
WSA amendment expands gap between AMD's GAAP and non-GAAP earnings
The GAAP results include non-recurring expenses, and AMD included the $340 million charge associated with the WSA under non-recurring expenses. This resulted in a GAAP net loss of $406 million in fiscal 3Q16, reversing the GAAP net income of $69 million reported in fiscal 2Q16.
Of the $340 million charge, about $240 million were non-cash expenses. They were stock purchase warrants issued to Mubadala. However, the remaining $100 million was a cash expense. If we consider this cash outflow in the non-GAAP earnings, AMD would have reported a net loss of $63 million in fiscal 3Q16, which is wider than the $40 million loss reported in fiscal 2Q16.
This means that AMD's non-GAAP profits are a result of the different treatment of expenses in accounting. This expense would not affect AMD's fiscal 4Q16 earnings. The company could return to GAAP and non-GAAP profits if its Zen processors turn out to be a success.
Next, we will look at AMD's two business segments and understand what factors would drive growth in each segment.