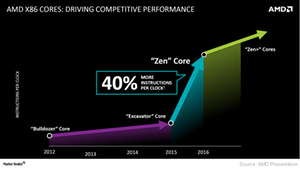 Will Zen Bring AMD on Par with Intel's Technology?
By Puja Tayal

Updated
AMD's Zen likely to be on par with Intel's processors
In the previous few parts of the series, we saw that IBM (IBM) and ARM Holdings (ARMH) have been developing new server chips that are very close to Intel's (INTC) technology in terms of performance.
Coming along for the ride is competitor Advanced Micro Devices (AMD), which uses Intel's own x86 architecture against it. Although AMD has a strong architecture design, it has lagged behind its peers in terms of manufacturing technology, which has made its chips less efficient.
Article continues below advertisement
After four years of research and development, AMD has bridged this gap and is now developing a x86-based Zen processor on Samsung's (SSNLF) 14nm (nanometer) FinFET (fin-shaped field effect transistor) process technology. It's believed that Zen will compete with Intel's current Broadwell processor based on its 14nm node.
What makes Zen faster than Excavator?
Zen is expected to be a 32-core server chip with each core having two threads. Zen is expected to significantly improve performance, with 40% more instructions per clock than its predecessor Excavator. Zen is expected to have 8 MB (megabyte) of shared L3 cache, a large amount of private L2 cache, and a large OPcache that will improve its performance. Zen will also be more power efficient thanks to the 14nm node.
Article continues below advertisement
At a company event, AMD demonstrated that a Zen-powered chip beat Intel's chips in a speed test. While the initial tests look promising, the company has yet to test the final product in the field. Linley Group analyst Linley Gwennap said, "They [Zen] don't have to be faster than Intel. They just have to be close enough so they can compete on price."
When will Zen hit the market?
The first Zen processor will target high-end desktops, and it's expected to come to the market in 1H17. Following this, AMD will likely roll out its Zen processors for enterprise-class servers in 2Q17.
While AMD is building x86 chips, it hasn't left out its ARM license. AMD will also develop ARM-based server chips, as it expects ARM to command a 20% market share by 2020.
While AMD, ARM, and IBM have yet to launch their competitive server processors, NVIDIA (NVDA) is already competing with Intel in the high-performance computing space, where more and more companies are adopting deep learning technology. We'll look at the NVIDIA-Intel competition in the next part of the series.