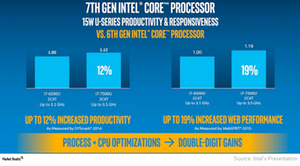 Will KabyLake Processors Drive up Intel's PC Sales?
By Puja Tayal

Updated
Intel looks to tap visual computing
The IDF (Intel Development Forum) 2016 witnessed Intel's (INTC) efforts to tap the VR-AR (virtual reality and augmented reality) market. Intel unveiled its seventh generation flagship processor line, codenamed "KabyLake," which is targeting 4K video as the world moves toward visual computing.
This launch came as a surprise as many analysts expected Intel to delay its new processor due to declining PC sales, high inventory of SkyLake processors, and a shift in the company's capital spending away from PC toward data center and IoT (Internet of things). The launch also marks a shift in Intel's tick-tock model, which we'll discuss in the later part of this series.
Article continues below advertisement
How is KabyLake different from SkyLake?
Intel has been steadily improving its performance with every upgrade. However, in the slowing PC market, it needs a significant improvement in performance to convince consumers to upgrade. Like SkyLake, KabyLake is also built on a 14 nm (nanometer) process, but it comes with an evolutionary upgrade of 4K.
KabyLake is the world's first processor that comes with a built-in feature to play or edit 4K videos. Although consumers can view 4K videos in the current Skylake processors, it takes up a lot of power. In SkyLake, 4K videos use 70%–80% of the CPU (central processing unit) and 5.8 watts of power, whereas KabyLake uses 10%–20% of the CPU and 0.8 watts of power, which increases laptop battery life by 2.6x.
The company stated that over one billion PCs currently in use are more than three years old. To encourage consumers to upgrade their PCs, Intel compared KabyLake to a five-year-old PC. The new chips have up to 19% faster web browsing speed, 70% faster mobile productivity and 3.5x better 3D performance than a five-year-old PC.
2016 holiday season sales
Intel has already started shipments of KabyLake processors designed for ultrathin laptops and 2-in-1 PCs. Intel executives stated that the first KabyLake integrated laptop would launch in September 2016, followed by 350 more models for the enterprise, workstation, full desktop, and enthusiast markets.
There are rumors that Apple's (AAPL) new MacBook Pros will be launched in the fall of 2016 and that they are likely to be powered by KabyLake.
Intel tried to encourage consumers to upgrade to SkyLake with Microsoft's (MSFT) Windows 10. It's now trying to market KabyLake with 4K videos and has partnered with Sony (SNE) and Comcast (CMCSA) for the same.
We'll explore this partnership in the next part of the series.