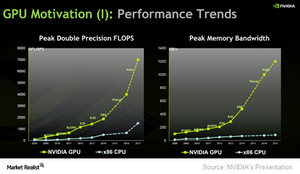 Rumor Has It Apple May Switch to NVIDIA's GPUs for Next-Generation Macs
By Puja Tayal

Updated
Will NVIDIA make a comeback in Apple's Macs?
Apple (AAPL) products are always the talk of the town and keep the rumor mill spinning. Before September 2016, the rumor mill focused on Apple's flagship iPhone 7. After the launch of the new phone, the rumor mill has shifted to the upcoming MacBook Pro, which is rumored to be launched in October 2016.
On September 24, 2016, Bloomberg reported that NVIDIA (NVDA) has posted three job listings for software engineers and have made a direct mention of Mac, Apple, and MacOS (operating system). The listing reads that engineers would "join the NVIDIA Mac graphics driver team" and write codes that will "define and shape the future" of graphics-related software on Macs.
When the market opened on September 26, 2016, NVIDIA's stock rose 3.4% in just one day.
Article continues below advertisement
What can we assume about the NVIDIA rumor?
Apple's latest job listings imply a lot. First, there is mention of a NVIDIA Mac graphics driver team, which could mean that the chipmaker already has been working on Mac products and that NVIDIA's GPUs (graphics processing units) may power the upcoming MacBook Pro. A related possibility is that the NVIDIA team may be new and that its GPUs may power 2017 or 2018 Macs.
Second, Apple has been diversifying its supplier base to reduce dependence on one supplier. It was rumored to have divided the baseband modem supply between Intel (INTC) and Qualcomm (QCOM). Advanced Micro Devices (AMD) is currently the sole supplier of discrete GPUs for Macs. To diversify supply risk, Apple might be selecting NVIDIA as a second supplier of discrete GPUs.
Third, a Mac Pro refresh has been long overdue, with the last hardware refresh happening in 2013. With the advent of VR (virtual reality), users are looking for PCs and notebooks that support VR. NVIDIA GPUs perform better than AMD in the VR space, and so Apple might be considering a complete switch to NVIDIA for its GPU needs.
Of course, these are just assumptions—we can't say with any certainty what is true. One thing is certain: NVIDIA GPUs (graphics processing units) would be making a serious comeback in Apple's Macs, which currently use AMD's discrete GPUs and Intel's integrated GPUs.
In this series, we'll continue to look at the possibilities of this rumor coming true as well as at what the impacts would be on AMD, Intel, and NVIDIA.