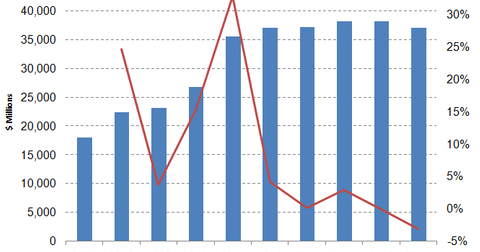 Why Oracle May Have to Raise Offer Price for NetSuite
By Anne Shields

Updated
Minimum tender condition might force Oracle to raise NetSuite offer price
So far in this series, we've discussed the doubts and concerns that hover around the Oracle (ORCL)-NetSuite deal. It is these concerns and conflicts of interest that have increased the possibility that Oracle will have to increase its buyout offer for NetSuite if it wants to add the latter under its acquisition umbrella. Earlier in the series, we discussed how mandatory requirements of the deal say that the majority of shareholders, not including Larry Ellison or his family, must vote for the deal.
This is likely to add weight to T. Rowe's price stature in negotiating the NetSuite buyout offer. The Wall Street Journal, citing Brad Reback, an analyst with Stifel Nicolaus, stated, "You could easily have a situation where not enough people vote for the tender."

In this scenario, Oracle is left with no choice but to increase its offer for NetSuite. The increase in the offer shouldn't impact Oracle, considering its significant cash reserves of ~$56 billion and the  recent bond deal of $14 billion.
Article continues below advertisement
NetSuite will add value to Oracle's cloud strategy as well as revenues
Commenting on NetSuite's acquisition by Oracle, Bill Kreher, an analyst at Edward Jones & Co, stated, "NetSuite is really pioneering cloud and this will certainly add to Oracle." Kreher added, "I think acquisitions are certainly consistent with the company's long-term pedigree and strategy. You've got to pay for that type of growth."
In fiscal 2016, Oracle reported ~$2.9 billion in cloud revenue. Oracle is making progress in the cloud space and expects 65% growth in the space in fiscal 2017. However, it's still behind its peer Salesforce (CRM), which is well on its way to clocking $10 billion in revenue by 2018.
To keep up the pace, Oracle had no other choice than to pursue a strategic acquisition in the cloud space. By acquiring NetSuite, Oracle will improve its revenue, as NetSuite's revenue is expected to be $1.2 billion in 2017.