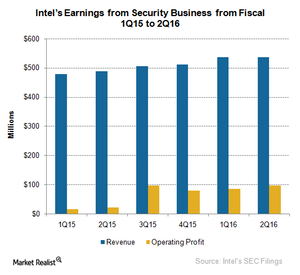 Why Intel Spun Off Its Security Business
Intel spins off its security business
In the previous part of the series, we learned that Intel (INTC) is restructuring its operations, refocusing its product portfolio, and offloading non-core assets to fund its vision of the connected world supported by 5G.
As part of this strategy, the company has agreed to sell a 51% stake in its security business to private investment company TPG in a $4.2 billion cash-stock deal, of which $3.1 billion will be received in cash and $1.1 billion will be received in equity. Intel will use the cash proceeds on its development efforts.
Article continues below advertisement
By way of this sale, the company's cyber security business will be spun off as a separate entity called McAfee and will be headed by Intel Security general manager Chris Young. Intel will retain a 49% stake in the new company, and TPG will hold the remaining 51% stake. The deal is expected to be completed in 2Q17.
The deal has been rumored for quite some time, as analysts haven't seen the security business as a strategic fit for Intel.
Why is McAfee not a strategic fit?
Intel acquired McAfee back in 2010 for $7.7 billion with an aim to integrate the latter's software solutions into the former's chips. However, this integration never happened. The deal was criticized by many analysts and by McAfee's founder John McAfee himself. Enterprise Strategy Group analyst Jon Oltsik said, "The McAfee and Intel deal never really delivered on any synergies."
McAfee was a profitable segment of Intel but accounted for just ~5% of the company's 2015 revenue. In 1H16, the security business reported an 11% YoY (year-over-year) rise in revenue and a 39% YoY rise in operating income. The rise came after the company refocused its security business toward endpoint, cloud, actionable threat intelligence, analytics, and orchestration technologies.
The new company will eye enterprise data centers while continuing to serve device manufacturers and service providers.
Synergies of the spin-off
Financial backing from TPG and strategic backing from Intel will help McAfee to capitalize on significant global growth opportunities through greater focus and targeted investments.
With more than $2 billion in revenue, McAfee will be among the world's top ten largest pure-play cyber security companies and will compete with the likes of Symantec (SYMC) and CheckPoint Software (CHKP), which are focusing on the cloud space.
Oltsik believes that McAfee can become an enterprise-class vendor by filling the gap in its portfolio through technology acquisitions.
Amid its 5G and IoT focus, Intel will continue its efforts in the PC space. We'll look into this in the next part of the series.