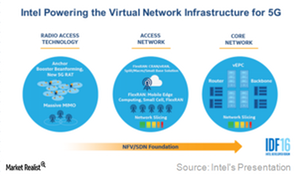 Intel Is Prepping Its Data Landscape to Be 5G Ready
By Puja Tayal

Updated
Transition to 5G
Intel (INTC) is investing in connectivity solutions, which are integral to the company's broader vision of the connected world.
At the Citi Conference, Intel's president of Client and IoT (Internet of Things) Businesses and Systems Architecture Group, Murthy Renduchintala, explained how 5G (fifth-generation) and IoT technologies are changing the data center landscape. He stated that the transition to 5G would go beyond faster data rates, connecting multiple devices at the same time to generate real-time data analytics.
Article continues below advertisement
5G to transform the storage landscape
The transition to 5G will transform network infrastructure to an infrastructure dependent on air interface. It will transform the wireless technology used in client devices beyond PCs and smartphones to connected cars, homes, factories, cities, robots, and drones. 
Each of these devices will generate tons of data, leading to a data explosion. Handling this data explosion will require upgradeable and extendable cloud storage.
Network virtualization: The future of storage
For devices such as autonomous cars, real-time data are a necessity in which there is no tolerance for latency. With such enormous data being generated, there will be bottlenecks in the backhaul portion of the network, according to Renduchintala. Backhaul connects the core network with small subnetworks.
This will call for a fundamental shift in the network storage space. Instead of data being stored in the cloud, it will be distributed into the fabric of the network. This will help to overcome the limitations of backhaul and minimize latency.
Transmitting data into the fabric of the network means a rise in silicon within the network and the ecosystem, generating a strong opportunity for Intel. This will also drive the need for software-defined networking and network virtualization.
Under this network storage environment, the data center will continue "to play a role of a much greater orchestration of the overall network," according to Renduchintala.
Article continues below advertisement
Role of accelerators
Accelerators such as GPUs (graphics processing units) and FPGAs (field programmable gate arrays) will play key roles in increasing the scalability of the network. FPGA supplier Xilinx (XLNX) is at the forefront of the 5G revolution and has partnered with IBM (IBM) and Qualcomm (QCOM) in their data center efforts.
Intel acquired FPGA supplier Altera to offer scalable storage solutions that can handle the data explosion created by the 5G revolution.
After addressing the issue of data storage, there comes another aspect of IoT, which requires the collected data to make sense in real-time. This requires a high degree of computing, which is possible through machine learning. We'll look into Intel's machine learning efforts in the next part of the series.