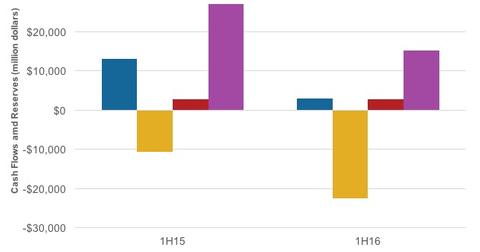 How Are Shell's Cash Flows Positioned?
By Maitali Ramkumar

Sep. 29 2016, Updated 9:04 a.m. ET
Analyzing Shell's cash flows
In 1H16, Royal Dutch Shell (RDS.A) generated around $2.9 billion in cash from operations. The company had cash outflows of $11.1 billion in the form of capital expenditure and $4.7 billion in the form of dividends.
Shell's current dividend yield stands at 7.9%. Shell's peers ExxonMobil's (XOM) and Chevron's (CVX) dividend yields stand at 3.5% and 4.4%, respectively. Comparatively, BP's (BP) dividend yield stands at 7%.
For exposure to high dividend stocks, you can consider the Vanguard High Dividend Yield ETF (VYM). The ETF has ~10% exposure to energy sector stocks.
Article continues below advertisement
Shell's cash flow gap
Shell's cash outflow to acquire BG Group, net of cash and equivalents acquired, stood at $11.4 billion in 1H16. Considering its capital expenditure (or capex), dividend, and acquisition, the company's cumulative cash outflow amounted to $27.2 billion in 1H16. To fund the gap between its cash flow from operations and its cumulative outflow, Shell had to draw down its cash reserves and raise its debt.
In 2H16, Shell will require $18 billion in capex, according to its management's guidance of ~$29 billion for 2016, plus $4.5 billion in dividends, if dividend outflows are assumed to be at last year's level. 
If cash flows don't improve due to low oil prices, then how will the company fund its capex and dividends with its reduced cash reserves? It will either have to raise fresh debt, sell assets, reduce capex, cut dividends, or adopt a mix of these strategies.
In such a scenario, the company's current strategy also assumes a crucial role. As stated earlier in the series, Shell intends to focus on its core assets to produce robust and steady cash flows that will be viable even at lower oil price levels.
Plus, to augment its cash flows, the company plans to do the following:
focus on reducing costs, which will result in huge savings
carry out divestments of around $6 billion–$8 billion in 2016
cut capex, if need be, to the lower end of its guidance range at $25 billion for 2016
Going forward, Shell's cash flow position will depend on the crude oil price level and the success of its strategic plans.